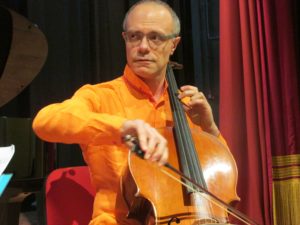 By Suzanne M. Anderson
Italian Cellist Francesco Mastromatteo will bring a solo cello concert to St. Andrew's Presbyterian Church, 3204 Skillman, Dallas on Sunday, Sept. 29 beginning at 5 p.m. There will be no admission fee for the concert, and a reception will follow in the fellowship hall. A free will offering will be taken. This concert is called Memory of Love and will feature the J.S. Bach Cello Suite in C major and the world premiere of Taglietti's Cadenza for cello solo, written by the composer for Mastromatteo. 
Mastromatteo completed his doctoral degree in cello performance at the UT-Austin Butler School of Music in May 2012 working with Prof. Bion Tsang. Mastromatteo also holds an artist diploma and a master in performance from Southern Methodist University where he studied under the inspiring tutelage of Andres Diaz.
"Memory of Love is a program about relationships, even though it has only one instrument, the cello, on stage," Mastromatteo said. "The wide range of the cello is used to interpret the different interactions and personalities of love."
Mastromatteo has performed internationally and throughout the U.S., including performing as soloist with the Meadows Symphony Orchestra, Round Rock Symphony Orchestra, and Balcones Community Orchestra. He is currently professor of chamber music at the Conservatory "U. Giordano" in Foggia, Italy – Residency of Rodi Garganico. 
The St. Andrew's congregation is happy to welcome Mastromatteo back to Dallas. While a student at SMU and UT-Austin, Mastromatteo performed as the resident cellist and Giese Scholar at St. Andrew's. He also acted as artistic director of the concert series "Spring of Harmony," which he created in 2008 and continued for many years at St. Andrew's Presbyterian Church.