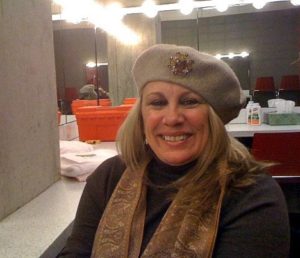 Theater visionary, artist, founding artistic director of Dallas's Undermain Theatre and Texas Woman of distinction Katherine Owens has died after a five-month prolonged illness. She was 61 and lived in Dallas with her husband and artistic partner Bruce DuBose. Born in Salt Lake City, Utah in 1957, Katherine was raised in Odessa, Texas by her father and mother Jack and Gloria Owens, where she worked as an intern at Odessa's Globe Theatre at an early age.
She started her career in the theater, after graduating from the University of Texas with a B.F.A in Theater in 1981,  first as a visiting artist at Southeastern Oklahoma State University and directing for the Oklahoma Shakespeare Festival. She soon made her way to Dallas where she embarked on an artistic path to run one of the most noted small theatre companies in the country, the Undermain Theatre. Arriving in Dallas, she soon met a young actor named Raphael Parry and, finding common interests, the two excavated a basement space beneath Main Street in Deep Ellum in a building at 3200 Main Street in 1984.
Within the year they asked actor Bruce DuBose to join them in forming a company of longtime collaborators consisting of actors, designers, directors and writers. Initially sharing the artistic direction of the theater with Parry, who would move on from the theater after a decade and a half, Katherine embarked on a cultural legacy that would take her and her future husband and executive producer DuBose on a 35 year history of award winning productions, many of them premieres along with tours in Europe and productions in New York City, while forging relationships with a number of playwrights with experimental and new American work as its main focus.
The company would also present reimagined stagings of classic works by writers they saw as key artistic influencers of their experimental tradition. In all, Owens directed well over a hundred productions in her career. She eloped with DuBose in 2000, and they married in London in a private ceremony at Rosslyn Hill Chapel in the Hampstead Heath district. The couple honeymooned in Morocco and Spain. Her awards and honors include Texas Woman of Distinction, Fellow of the Sundance Theater Institute, Dallas Institute of Humanities Fellow, D Magazine best of Dallas and the Dallas 40 influencers, multiple Dallas theater critics' forum awards for directing and ensemble performance, Dallas Observer and The Dallas Morning News best of lists, the Dallas Historical Society Award for Excellence, the Ken Bryant Vision Award and the McLean-Paris Award for Artists. 
Owens said of her approach, "I think there are two traditions in the theater: the hermetic and the heroic." She is survived by her husband Bruce DuBose, her sister Kimberley Owens and her brother Carl Owens. Her husband will continue their work at Undermain as producing artistic director to lead the Undermain in accordance with her artistic vision. In addition to her directing career, she was also a painter and photographer. Throughout the Undermain's 2019/2020 season there will be a celebration of her work in an exhibition of her watercolor paintings, drawings and photographs as well as her notebooks in the Undermain lobby. 
Information on memorial and funeral services will be posted soon on the Undermain website and social media pages.