By Kate Langley, '19
Marketing Intern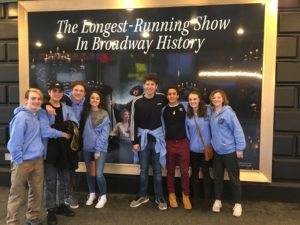 This past month, 27 Upper School students traveled to New York City for the winter Break. 
Throughout their four days in the city, they saw five shows and attended two workshops. 
The annual trip led by Tracy Herron has become an event to look forward to for performing arts students. It also allows those outside of performing arts to interact with Broadway performers and develop a greater appreciation for theater. 
The group was comprised of veteran New York travelers and even some who had never flown on a plane before. Overall, the trip provided new experiences for all involved. 
After their arrival Friday, students were able to explore Times Square before they attended "La Fille du Regiment" at the Metropolitan Opera. Sydney Rutherford particularly enjoyed the performance. "Following the French opera on the translation screen and witnessing the amazing costumes was really intriguing."
The next morning, students attended a Broadway classroom workshop with conductor Jeffrey Theiss and actress Sharone Sayegh from "The Band's Visit." The students learned part of the show's opening song "Waiting" and examined the various characters and motivations demonstrated in the song. Sayegh then introduced students to an Israeli school of dance, named Gaga, in which the movement is concerned not with the visual aspect, but with feelings. 
That afternoon, students had the choice of seeing either the new musical "King Kong" or the classic "My Fair Lady." That night, all students attended "The Band's Visit." Elijah McMillian said, "I enjoyed the show because of how relatable it was through a plot as simple as seeing into the lives of the townspeople." Many students waited after the show at the stage door and were able to interact with cast members as well as get autographs. 
On Sunday morning, students met with actor Keven Quillon, a member of the "My Fair Lady" ensemble. After Quillon sang, students were able to ask him anything about the industry, his education, or life in New York during their Q & A session, getting valuable advice.
That afternoon, students attended either a new revival of "Kiss Me Kate" or a new adaptation of "To Kill A Mockingbird." Gaige McKnight stated, "'To Kill A Mockingbird' was a beautiful portrayal of a book we all read and loved in eighth grade." He really enjoyed being able to see the story unfold in a new format. Several students waited at the stage door after the performance and even got to meet actors Jeff Daniels, Celia Keenan-Bolger, Gideon Glick and Stark Sands. For their last show, students chose between the musicals "Wicked" and "The Prom." 
Throughout the trip, students were able to not only see shows which interested them but were given free time to experience the city. This independence enabled students to pursue their interests and be engaged in every activity. According to Elizabeth Schmitt, one of the trip chaperones, "Several of the shows had important messages about tolerance and the fact that it is not enough to merely 'show up.' It is also necessary to listen and, as Scout put it, we need to 'all rise' and act."