By Gigi Ekstrom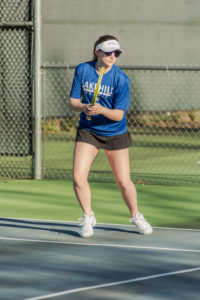 The Lakehill Preparatory School's Varsity Tennis team is steadily improving as they gear up for the District Tennis Tournament next week. On March 23, the Warriors took on Dallas Alcuin. Juniors Luke Jerome and Ben Gillman took on a top-notch boy's doubles team from Alcuin and took them to the limit before losing, 7-8. In mixed doubles, Maya Ariss and Gary Hou crushed their opponents 8-3. In the last boy's doubles match of the day, Hou and Owen Liu won 8-6.
In their last home match of the season, the Warriors took on Dallas Covenant again and played some of their best tennis the season. In girl's doubles, Hayden Yoss and Julia Bartholow bested the top Covenant girls doubles team, 6-4. Jerome and Gillman took care of the Covenant Boy's doubles team, 6-1. Liu won in boys singles 6-2.
In the second round of matches against Dallas Covenant, Yoss won easily, 6-0. The doubles team of Justin Reed and Will Grooms remained undefeated against Dallas Covenant with a 6-4 win in boy's doubles.