By Shari Goldstein Stern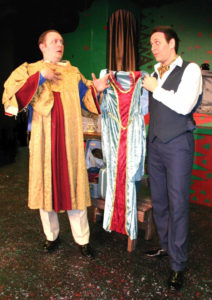 It's May in Dallas. Spring weather skipped right through a couple of lovely April days and straight into a predictably scorching Texas summer. Pocket Sandwich Theatre (the Pocket) on Mockingbird Lane was a cool, comfortable respite last weekend for a light dinner and lively theatre in a packed house for the Pocket's current production, Ken Ludwig's "Leading Ladies" running through June 15.
Although more current than a farcical, 1950s sitcom (think "I Love Lucy" live on stage), layers of this fresh comedy are peeled back as fabrications become discoveries; down-on-their-luck, Shakespearean actors become frauds; nephews morph into nieces; ministers are deceitful; naïve young women fall in love with men dressed as women — that's not a typo; fathers lust after gender-switched beauties; elderly mothers refuse to die; shenanigans bring out the best in every role, and all under Stacie Cook's gifted direction.
While patrons keep the complicated story straight, the action moves so fast that the audience dare not lose a moment, like when Travis Cook as a tall, dark and handsome old-Hollywood type, Leo, quick-changes to Maxine, an awkward but sensible spinster, seen first in a Shakespearean costume. Cook couldn't be more convincing as the two, vastly diverse characters.
Many times, a showstopper is Carter Frost as Jack and Stephanie. Jack is a lovesick, over six-feet-tall, bulky, bull-in-a-China-shop actor who also plays the part of the quirky Stephanie full-out, every line and gesture delivered with broad comedy. When cornered as a desirable, curly-haired, vixen by Doc Myers through an intentional "mix-up," Frost's Stephanie gets past her humiliation to pull off the farce. All the while, Jack is livid with Leo for getting him into this mess.
As the minister who insists his wedding to Meg will be business attire, Steve Iwanski is exactly the right amount of creepy and ridiculous for the part. But with this frustrated, high-drama speech he gets one of the biggest LOLs of the night: "Actors are all big liars. It's their profession. They all lie for a living. They are actors!"
Brian Hoffman is over the top as the hilarious Doc Myers. He's cast dead-on for the character. He uses an extra husky voice for the part, which quickly endears him, especially in the first scene. He welcomes the audience to the Beaver Hall, drawing out the audience's own sound effects. His awkward tango with Stephanie is a moment. Hoffman said: "I feel completely differently about Jack and Stephanie. 
The fact that the same actor plays both roles makes it challenging. Doc has to look at both characters with fresh eyes."
The white-collar banker/actor returned to the stage after a 20-year hiatus to raise a family. He's been memorable in the Pocket's "Prelude to a Kiss." He's also left impressions through credits at Theatre Three, Theater Britain, Runway Theatre and Lakeside Community Theatre during his return to the boards.
Hoffman said about Frost: "Carter has an amazing sense of comic timing. His Liverpool accent is spot on (think Paul McCartney). He created a very rich character, one that fills in all the spaces between lines and words. He is fully committed to this role, and it's a joy to share the stage with him."
It's also a joy to watch Jessica Smith as she plays Meg, a complicated, very smart character. Audrey, played with big, doe eyes by Sara Rachelle, is as ideal as the roller-skating waitress as she is the naïve ingenue who falls for boy-turned-girl-and-back Carter Frost. She's also a scene-stealer.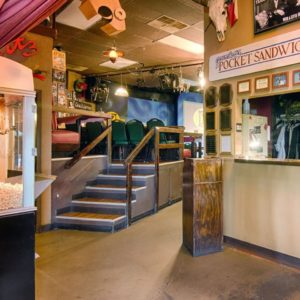 The Pocket is an ultra-current, throw-back to the 1970s' Granny's Dinner Theatre and Country Dinner Playhouse during the dinner theatre trend which, in Dallas, caught on like fried chicken. 
At the Pocket, optional, moderately priced dinner is served each evening one-and-a-half hours before curtain. The casual menu, in sections like, "People's Choice Awards" and "The Greenroom," features a wide selection of specialty pocket, wrap and other sandwiches, soup, nachos, wings, baked potatoes and more. "(One) Seasonal Sensation" is the winner of several salads, and combines crisp assorted greens topped with grilled chicken, golden calimyrna fig, apple, red grapes and cranberries, sprinkled with chopped walnuts and feta cheese, served with raspberry vinaigrette. 
Desserts looked yummy, like the chocolate birthday cake served at the next table. Beer and wine are served by the glass (a pricey plastic cup of table wine is $7) or the bottle. The Pocket is a unique, fun place to have a small celebration with family, friends or the office.  
The Pocket has a tag line, "Spend a night with us and we will respect you in the morning." It has earned much respect for its 39 years of providing great entertainment and dining to the community. 
"Leading Ladies" plays through June 15 at the Pocket, 5400 E. Mockingbird Lane in Dallas. 
For show times, tickets and more information visit pocketsandwichtheatre.com or call 214-821-1860.