By Gigi Ekstrom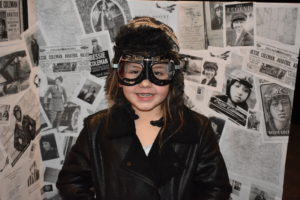 On February 12, Lakehill's third grade students stepped into a museum, not as visitors, but, this time, as the exhibits themselves. 
To culminate a unit on influential figures in Texas history, students had the unique opportunity to bring the person they had researched to life, complete with authentic costumes, backdrops and props. Students wrote speeches which they presented to a large audience in the auditorium.
Legends from the pages of Texas history books, including Miriam "Ma" Ferguson, Mirabeau B. Lamar, and Scott Joplin filled the auditorium stage and aisles. One by one, they shared their stories and their contributions to Texas.  
"We were thrilled with the success of the Wax Museum," said third grade teacher Kelly Curtis. "The students certainly looked the part with their elaborate costumes and beautiful backdrops. I was impressed with the detailed speeches students memorized and presented to the audience. It's not easy to do all of that in front of a crowd, but they did an amazing job!"
"To see the historical characters so wonderfully envisioned brought joy to everyone who participated and watched it," said third grade teacher Rochelle Rasheed. "This would not have been possible without the dedication of our students and the support of their parents."