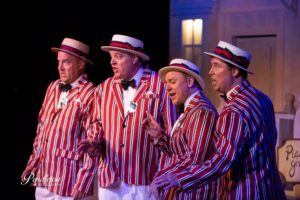 By Shari Goldstein Stern
Max Swarner is a gifted actor with a natural ability to transform himself into roles as challenging as Jesus Christ in "Godspell," as demanding as Tony in "West Side Story," and as playful as Professor Harold Hill in "The Music Man," (TMM) now in a run at Firehouse Theatre through Sunday, Aug. 19.
Warner is a 20-year veteran of theater. He earned a BA in voice from SMU.
His regional credits include "Phantom of the Opera," "It's a Wonderful Life" and "Pippin," to name a few. He has an impressive collection of awards for his work, including the 2011 DFW Critics Forum Award and a cache of Column Awards. The young triple-threat toured with "Casper: The Musical" starring Broadway legend Chita Rivera.
When "The Music Man" first played on Broadway, 1957-1960, it garnered countless Tony and other nominations and wins. Robert Preston became emblazoned in audiences' memory as the iconic Professor Harold Hill, who scored countless nominations and wins for Tonys, Golden Globes and other awards. There have been multiple revivals throughout the years. "The Music Man" is an enduring theater classic that has entertained for decades
As Professor Harold Hill, Swarner seemed perfectly at ease. He brought out Hill's shady business side and slippery tactics, along with a heavy dose of charm. "Ya' got trouble, my friend, right here. I say, trouble right here in River City," he sang, positioning the town to watch as he came to its rescue.
Significantly, this show had launched the trajectory of Swarner's career. "It's been a dream role of mine since I played my first leading role at age 9 as Winthrop in "The Music Man" at the Kalita Humphreys Theater.
Swarner said: "The stage is a decent size, but with a cast of 35 and a 10-piece orchestra, space is limited. Bruce Coleman brilliantly staged this production to fit this space, and he was very creative in how he chose to tell the story."
"There was love all around; But I never heard it singing; No, I never heard it at all 'till there was you," Hill's and the librarian's duet could be heard among patrons humming the tune when leaving the theater, mesmerized by Meredith Willson's score. As Marian the Librarian, Mindy Bell was dutifully prim and proper. Bell is also a native Dallasite, who lives in Lake Highlands. She earned a liberal arts degree summa cum laude from Vanderbilt University. Bell currently teaches Kindermusik to 1-3-year olds and their grown-ups. She also teaches a few voice students and will do graduate work in Counseling at UNT in the fall.
Bell has credits with Rockwall Summer Musicals, Love Your City Theatre, Lyric Stage Brickroad Theatre, and Uptown Players, Brickroad Theatre.
"Playing Marian has already become one of my favorite theatre experiences. It is such a joy to play a character who begins the show disillusioned and closed to life, but who then steadily transforms into a woman awake to the love and beauty in the world. I consider it a gift to go on that journey once or twice a day!" She expressed her gratitude to Swarner and Director Bruce Coleman for their talent and support.
"For me, our production captures the joy that art and music can infuse back into individuals and even an entire community. And we can all use a little more of that, I think!" the actor said. "Turn off the news for one night and come watch live actors bring to life the town of River City, Iowa for a couple hours," she added.
Another native Dallasite, Sally Soldo, turned in what might have been a small role as Mrs. Paroo, Marian the Librarian's mother, but she translated it into a central, significant role with a big dose of personality.
Soldo's theater career started at age nine when she appeared in Dallas Summer Musicals. She has appeared Off-Broadway in "Up Eden," and toured 103 cities in six months in the National Touring Company of "George M!" She has toured extensively in dinner theatre, regional and stock theaters, including almost two years opposite Robert Morse in "Play It Again, Sam."
Bethany Lorentzen is nothing short of a genius choreographer. With the space limitations she was given, she masterfully created polished, vivid, and exciting production numbers. She brought in just enough acrobatics to heighten the lively dances, and magically, it seemed, made the stage seem much bigger. Her dancers were experienced and polished. Hope Cox's costume designs were breathtaking.
Music Director Bruce Biffle also worked wonders with his orchestra perched above the stage.
The sound was just right for the 10-piece orchestra playing to an audience of 165, which sold out each of the opening weekend performances, and is expected to continue the trend. Swarner opined about the popularity of this show like this: "It's a classic piece of musical theater that almost everyone knows, whether they grew up watching the film, did the show in high school, or stumbled upon it through its frequent reference in pop culture."
The leading man continued: "In that same regard, it's one of the greatest musicals ever written, and it's so accessible for audiences — even for those who may not like musicals. The characters are beautifully and vividly defined, the dialogue is some of the sharpest ever written, and the score is electrifying. What more could you ask for in a musical?"
Bruce Coleman is a busy, highly-respected Dallas director who staged this production with the greatest attention to detail. He made the most of the small space fastidiously filled with a cast of 35 in the cast and a 10-piece orchestra.
"The Music Man" continues through Aug. 19.
For more information and tickets, visit thefirehousetheatre.com or call 972-620-3747.