By Anne Duthie
On Sunday, Nov. 10, the downtown Dallas Goodrich Gallery will host a midday reception for painter Niki Gulley, their featured artist for the entire month of November. From noon to 2 p.m., Gulley will be available to discuss her work, which has been described as "vivid and lyrical."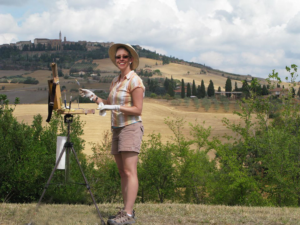 The 30 textured oil paintings on display span the last decade of Gulley's career and showcase the artist's predominant technique, marrying a 3-D sculptural approach to impressionism. Her site inspirations range from local Turtle Creek and White Rock Lake, to further out in Texas. She also interprets the changing seasons in Colorado and the Northeast, the jagged rock formations of the American West, and the renowned fall foliage of Vermont. From her European travels come paintings that capture the romance of Venice, the poetic landscapes of Provence and colorful Cinque Terre.
Gulley's work varies in dimension and mood. Some paintings are small and intimate, others sweeping in their size and scope. At this show, she will be unveiling a massive new quadriptych, measuring measures 4 feet high and over 12 feet wide, and featuring a forest evolving from spring to summer to fall to winter. She says, "Working on such a large scale invites you to step right into the scene and take a walk through the woods, enjoying all of the peace, joy and rejuvenation that nature has to offer."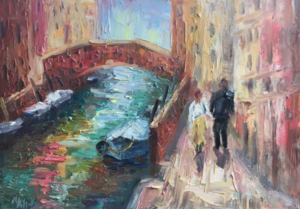 The Goodrich Gallery is located at the First United Methodist Church, 1928 Ross Ave. in downtown Dallas.