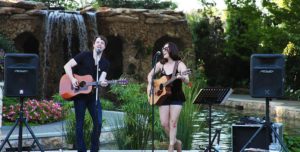 By Krista Gabbert
Enjoy the thrill of live music at twilight with Garden Gigs at the Dallas Arboretum for its fourth season this July. Each Friday event features a curated selection of local artists and musicians performing intimate sets in picturesque settings throughout the 66-acre gardens. On July 27, the garden features Jake Paleschic, Becky Middleton and Leoncarlo Canlas.
Jake Paleschic is a singer songwriter from Fort Worth. His music is firmly rooted in American soil, even while the band collectively explores newer frontiers of folk, rock and roll, and country.
Flowing between soul, pop and roots music, Becky Middleton has found her groove not only as a sought-after vocalist, but an artist stopping strangers in their tracks on first listen. The soulful songstress released her critically-acclaimed single "I'm Still Here" in December 2016 with a full-length release on the way, produced by Beau Bedford (The Texas Gentlemen, Paul Cauthen, Larry Gee).
Leoncarlo Canlas is a musician and violinist based in North Texas, with more than 20 years of experience. Classically trained for violin, he went on to collaborate with a number of national acts, namely Seryn and Botany.
Leoncarlo's career has sent him all over the world, including festivals such as SXSW and Telluride, and shows with Dave Brubeck, George Clinton, and many others.
Garden Gigs runs from 7:30 to 9:30 p.m., offering fabulous views of Dallas at sunset, vibrant summer plantings, along with late access to the garden on the shores of White Rock Lake. Guests can bring their own picnics and beverages or take advantage of delicious offerings from some of DFW's most popular food trucks including Bellatrino and Ruthie's Rolling Cafe.
Gates open at 6 p.m. Tickets are $15 and parking is included.
Visit dallasarboretum.org/gardengigs for more information. The Arboretum is located at 8525 Garland Road in Dallas.
The Arboretum is supported, in part, by funds from the Dallas Park and Recreation Department.