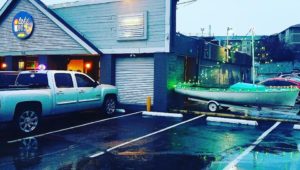 By Kristi Holman
Lake House Bar & Grill opened its doors in the Lake Highlands area near White Rock Lake six years ago, and the restaurant is throwing a huge celebration party for the community. Everyone is invited to the Lake House on Saturday, March 30 from 10 a.m. until 10 p.m. to enjoy great food, local brews, covered and heated dog-friendly patios and live entertainment all day long. 
"This year's celebration is going to be amazing," John Schmitz, owner of the Lake House, said. "We're kicking off the day with a delicious brunch for family and friends to enjoy, including fun activities to entertain the kids." 
The day will be filled with a Tap Takeover by Peticolas Brewing Company, and live music from some great local talent to keep the party going. 
"We're proud to have called this neighborhood 'home' for the past six years," Schmitz said. "We have the best customers and look forward to many more years of serving the community. I hope everyone can join us in celebrating this special day."