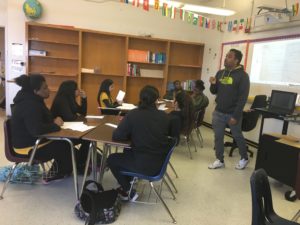 By Sujata Dand
There's no way to avoid learning some Spanish in Akash Patel's class at Rusk Middle School in Dallas.
"In my school, I want to inspire my kids on a daily basis and be like — hey look, I'm not Hispanic. My family is from India and I moved to the United States and I can speak six languages and I think you can too."
Patel is one of 50 finalists for a global teacher prize sponsored by the Varkey Foundation, a non-profit organization dedicated to improving education for underprivileged children around the world.
"What are you going to cook?" Patel asks his class. The lesson today is food and the students have to write recipes. "Saludable — what is saludable? Healthy."
His message resonates with some of his seventh and eighth grade students. They work in small groups. Flags from different countries dangle over their heads.
"We have unique issues and challenges at this school. I have a lot of students with criminal backgrounds," Patel explains. "So here it's mostly motivation — how to motivate these kids to see beyond the classroom."
Today, Hector Rojas, a nutritionist from Columbia, skypes in to talk to Patel and his students. This is part of Patel's daily curriculum. He connects his students to children, educators and experts from other Spanish-speaking countries using technology.
"For me, Spanish is a way to show them there's a world that exists outside this classroom."
More than three quarters of the students here are Hispanic. The rest are mostly African American. Almost all of them are poor. The historically low-performing school went through a massive transformation last fall when DallasISD officials poured additional resources into the turn-around school and hired a new principal and a new staff.
"I have to interview this guy!" remembers Principal Juan Cordoba. "Mr. Patel is atypical for a teacher because of the energy he brings and how he is always thinking outside of the box on how to present the information to his students."
Patel was born in Nashik, India, just outside of Mumbai. He came to the United States to study engineering at Iowa State University, but quickly decided that wasn't for him. He moved to Oklahoma and eventually got his degree in elementary education.
"I taught children in rural communities where people had never seen someone like me. So, I think that sparked my passion for teaching global citizenship. What can I do to help these children dispel some of their stereotypes while at the same time learn about the world?"
Patel started a non-profit called the World Experiences Foundation. The non-profit connects schools from Texas, Oklahoma and Arkansas with speakers and schools from around the world.
The grant-funded organization has been recognized by Former President Bill Clinton and is utilized by thousands of teachers.
"I've seen incredible empathy from the children when they are able to connect with people from around the world," Patel says. "They turn that empathy into action by writing letters or by creating awareness for issues they find meaningful."
Patel has been at Rusk for five months. After the first semester, students took a benchmark test administered by the district.
In Patel's Spanish I class, the kids scored 10 points higher than the district's overall average. Patel says the outcomes show what's possible when students develop strong relationships with teachers.
"Our children come from very difficult backgrounds and it is important to me to be able to know these backgrounds to form a relationship with them," Patel explains. "If I don't acknowledge what's happening at home — whether the family is going through a divorce or the family is going through someone being deported, I can't connect with my child. For me, it's being able to establish a positive relationship with the students. Without that relationship, I can't get students to move their pencils."
As one of the 50 finalists, Patel will travel to Dubai during spring break for a week-long conference and celebration for the teachers. The grand prize winner will be announced at the event.