By Jo Ann Holt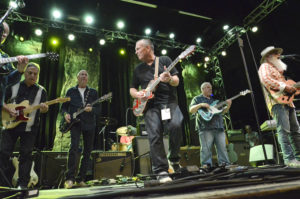 A benefit concert and auction for Buddy magazine will be hosted by the Dallas International Guitar Festival from noon to 10 p.m. August 12. The Buddy magazine benefit will be held at the legendary Longhorn Ballroom, and celebrate the original Texas music magazine's 45th anniversary. Tickets are $10 each, available at the door.
The event also celebrates the 40-year history of the Buddy Texas Tornados, started by Buddy's founder Stoney Burns in 1978. The first Texas Tornado musicians were Rocky Athas, Jimmy Vaughan, Billy Gibbons, Eric Johnson, John Nitzinger and Bugs Henderson. Athas will join many other Texas Tornados onstage, including benefit organizer Jimmy Wallace and the Stratoblasters, at the benefit concert.
A silent auction and photography exhibit and sale will offer a look at some of the exclusive covers and event coverage by Ron McKeown, Chuck Flores, James Bland, Michael Insuaste and others.
Buddy, the Original Texas Music Magazine was started on a shoestring, just $2000 in capital, and the undaunted vision of founder/publisher Stoney Burns. It was the first regional music magazine in America.
Burns was already a counterculture hero from his days with Notes and the Iconoclast, hell-raising publications from the days when "alternative" was spelled "underground." Rob Edelson was the first editor and chief ad salesman, the rest were "staph." Since then the contributors have included some of the best writers and photographers in the state. The debut cover story on Seals and Crofts helped nail down a big ad from a concert promoter who just happened to have a Seals and Crofts show coming up.
A few days after the first issue was printed, Edleson and photographers Jesus Carrillo and Ron McKeown headed to Dripping Springs for the first Willie Nelson Fourth of July Picnic. It was apparent that this mix of hippies and rednecks listening to country music might work.
"It was a different time back then," recalled former editor-photographer-ad salesman Kirby Warnock. "Promoters wanted you backstage. You could just show up and it'd be like, 'What can we do for you?'"
What made it great for Buddy writers and photographers was the access. Full access, any time. It was assumed that a Buddy staffer should be there. Buddy landed on the ground floor of the '70s "Cosmic Cowboy/Redneck Rock/Progressive Country" movement in Texas music, and that genre's buzz would give the mag a lot of horsepower. Burns' idea of publishing a free regional music magazine must have been a good one, because copycats sprang up all over the U.S. That kind of confidence allowed Buddy to become the ultimate insider music mag of the '70-'80s.
An example is the photo shot by Ron McKeown in 1974 on Willie Nelson's first bus, with interior designed by Paul English in red and black with velvet and leather. Crammed shoulder to shoulder on the bus were: Boxcar Willie, Willie Nelson, Chill Wills, Dewey Groom, Paul English, Rex Ludwig, Wizard of Oz actor Billy Barty and Hank Thompson.
McKeown said, "I wish I had color [film] with me that day."
Burns also established the selection of Buddy Texas Tornados in 1978. Stevie Ray Vaughan and Rocky Hill were added in 1979. More than 500 Buddy Texas Tornados are now performing, teaching and recording on guitar, bass and miscellaneous stringed instruments, as well as keyboards, drums, horns and harmonica.
"The Texas Music Awards" (the "Buddies"), selection of Buddy Texas Tornados, and the Texas Music Hall of Fame inductions reflected the publication's growing clout in the early '80s. Performing guests at the 1980 Buddy Awards included Willie Nelson, Delbert McClinton, Jerry Jeff Walker and Joe Ely.
Presenters included Jimmy Dean and James Brown, while Roy Orbison was a presenter the year Jimmie and Stevie Ray Vaughan headlined.
At its peak, Buddy had editions in Dallas, Houston, and Austin/San Antonio and a staff of almost two dozen. But trends in entertainment had already begun to toll the bell for the freewheeling '70s. As the cosmic cowboy thing waned, as boobs in big hats became as anachronistic as banjo players in blackface and bowler hats, the mag also lost steam, seemingly unable to attract younger writers who could bring the scene to readers in a way that could attract ads.
The one area where Buddy continued to be immediately relevant was in the coverage of the local blues scene. Buddy staffers helped resurrect the career of Zuzu Bollin, turned mainstream music fans on to local standards like Roger Boykin and R.L. Griffin, and at last (thanks to local blues expert and Buddy staffer Tim Schuller) provided piano player Boston Smith with an epitaph commensurate with his achievements.
Much had changed in the Texas music industry by the time Stoney Burns turned Buddy over to current publisher/editor McKeown in the early '90s. With the explosion of personal computers, it seemed every kid with a Mac could publish their own music magazine … and did.
McKeown bulled his way forward into the magazine's third decade, publishing Buddy with a stubborn and unorthodox approach that no doubt baffles most. Buddy writers such as Chuck Flores, Tom Geddie, Shawn Henderson, Rick Koster, Tim Schuller, Kirby Warnock, Jan Sikes, Jackie Don Loe and Mary Jane Farmer, along with photographers Flores, James Bland and McKeown continue to keep the magazine vital to the Texas music scene.
Stoney Burns and Rob Edleson planted the Buddy flag July 1973, just hoping to have enough money left over to buy beer for the next concert. Today, Ron McKeown publishes the 45-year old Buddy from his home in Sulphur Springs (on a shoestring, he says).
Dallas International Guitar Festival (DIGF) celebrates its 42nd anniversary May 3-5, 2019 at Dallas Market Hall.
Visitors can buy, sell or trade thousands of new and vintage guitars, basses, amps, banjos, mandolins, straps and strings, effects pedals, keyboards, music memorabilia and more.
The festival features guitar legends and up-and-coming artists and tips from the very best musicians at instructional clinics throughout the show.
Attendees can listen to the best local and regional bands at the festival's multiple stages with performances by more than 60 local, regional and national artists. Performers also include the best in new young talent on the Young Gun stage and at the Texas 10 under 20 showcase.
For more information, visit guitarshow.com.