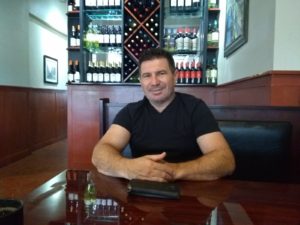 By Shari Goldstein Stern
Casa Linda's Lover's Pizza & Pasta groupies don't panic. Benny would never leave us without our veggie pizza or lasagna with his homemade pasta. In March, owner Benny Zeqiri packed up the popular restaurant's warm atmosphere, great memories and fabulous food since 2005 to turn the key, locking up the popular Plaza staple. 
The successful restaurateur didn't move far, though. He moved just down the street, actually, to his already-popular Benny's Classic Grill, which has been open for about seven years just east of Casa Linda on Garland Rd. Followers are saying they're thrilled with the marriage of the two — now Lovers Pizza, Pasta, & Grill. 
In what the owner calls a European twist, Benny offers a unique variety of eight burgers that are a treasure to find at the casual eatery. The extensive menu on the wall ranges from the exotic Portabella & Smoked Gouda Veggie Burger, Feta Stuffed Lamb Burger and Euroburger with Fried Egg, to the Blue Cheese Bacon Burger and the always popular American Classic Burger, and everything in-between.
Also from the grill are handcrafted flat breads, including the Philly, PA, crafted with cheesesteak meat, carmelized onion, red bell pepper, sliced mushrooms and a mozzarella cheese drizzle. Another favorite flat bread is the Classic Margherita, made with fresh basil and tomatoes, mozzarella cheese and classic tomato sauce.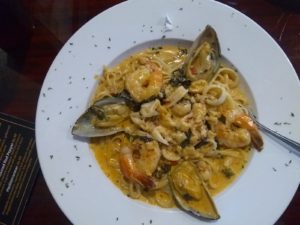 Sandwiches range from the exotic Gyro, made with sliced lamb, red onions, tomatoes and tzatziki sauce on pita bread to the traditional Philly Steak.
Paninis include an Italian Style Cheesesteak with shaved rib-eye, mozzarella cheese, carmelized onions, grilled red peppers, mushrooms, and pesto sauce and a number of other choices.
Not to be outdone by the grilled dishes, the original, Casa Linda Pizza & Pasta menu is equally extensive, and includes Benny's homemade pasta. Among the favorite pasta dishes are the spinach manicotti, eggplant parmesiana, and the seafood combo linguini pasta with mussels, calamari, shrimp, clams and white wine garlic sauce. 
Die-hard veggie lovers can agree that Benny makes the best veggie pizza in town, with plenty of garden-fresh spinach, mushrooms, tomatoes, garlic, green and black olives, bell peppers, onions and his divine crust. 
All three Lover's locations are family owned and operated. Benny's uncle Rafaello came to Dallas from New York and opened the successful Brothers Pizza, where Benny worked before becoming an entrepreneur himself. It was his uncle who created the recipe for Benny's remarkable Siciliana, thick crust. "Uncle Rafaello taught me everything I know about cooking," Benny said.
Benny's brother and partner, Dino, has the Lovers Lane location, while his cousin Timmy is also a partner and heads up the Mockingbird restaurant.
But Benny's new concept of housing the grill under the same roof with pizza and pasta seems to be working. At any given time you can find both sections, the pasta and the grill, keeping the staff of 14 busy. According to the entrepreneur, the restaurant serves a lot of the over-65 crowd, along with college students, families and after-church patrons on Sunday. They go for the great food, good service, warm atmosphere and the absence of loud music. That is also appealing to business lunches and dinners. Benny said humbly, "They follow me wherever I go."
Benny takes pride in presentation. Each dish looks like it was prepared from a high-priced, five-star restaurant.
If you're in and out of Benny's often, you won't see much of the owner. He spends countless hours in the kitchen doing what he enjoys most, cooking. He discovered his love for the art when he was about 15. Now he said he could do it all the time and be very happy. "I replaced the ovens when we moved. They cook the pizza to perfection," he said. 
Benny maintains a loyal, tenured staff. Ricardo Reyes has been Benny's cook for 15 years, and you can sense their bond. "I feel comfortable in this job. Benny understands that when someone in my family needs me to take care of them, I'll have to leave," the loyal chef said. 
Giovanni Moretti has been Lovers' assistant manager since 1997. "I love this guy," Moretti said. He added how much he enjoys working with the staff and guests. Jasmin Pajazetovic is another tenured and loyal employee who brags about working for Benny. Benny is close friends with all of them.
The restaurant is available for small parties. Reservations are recommended for parties of more than five guests. The restaurant has covered patio seating to enjoy when weather permits. 
Benny looks forward to announcing a happy hour in the future. His plans may include sangria specials and belinis. 
Benny chose to call White Rock his home after falling in love with the lake. He said he and his family are very happy living in their Casa Linda neighborhood.
The generous businessman has sponsored some events for area schools and organizations like Reinhardt Elementary, White Rock Montessori, Woodrow Wilson and others.
Lovers Pizza, Pasta & Grill is located at 10302 Garland Rd. in Dallas. 
Call 214-324-1312 for reservations for parties of five or more. Kitchen hours are Monday–Saturday 11 a.m. – 10 p.m. and Sunday's from noon – 10 p.m.