By Dr. Beth Leermakers
Give your pet a special Easter celebration — and help Spay Neuter Network (SNN) create compassionate communities free of homeless pets — by ordering an Easter Bone Hunt Box ($25). Proceeds support SNN's three nonprofit clinics, which help people care for their pets by offering low-cost/no-cost spay/neuter and affordable wellness care to dogs and cats. Order your Bone Hunt Box by March 22 at spayneuternet.org/easter-bone-hunt/. Every order automatically enters your pet into a raffle for more prizes. Plus, enter the pet costume contest for a chance to win a grand prize package worth more than $200!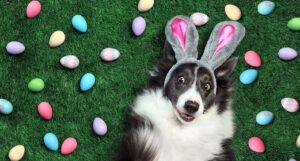 Every dog box includes a Victor's Doggie Cookie from Alpha Paw, a full size of Squeeazables from Simply Kind Hearted, a pet shampoo and/or conditioner sample from Spina Organics, a Brutus Bone Broth biscuit, a Texas cookie from Lucky Dog Barkery, heart bites from Suzie's Pet Treats, a biscuit from Specialty Treats, LabAdore socks from Teddy the Dog, two SNN balls and more.
Every cat box includes kitty boinks from Naturally Fresh, Munchables or Squeezables from Simply Kind Hearted, chicken and tuna bites from Suzie's Pet Treats, a sample pouch of litter or food from Dr. Elsey's cat products, Well Played socks from Teddy the Dog, an SNN ball and more.
Spay Neuter Network's mission is to eliminate pet overpopulation through spay/neuter, while empowering communities to care responsibly for dogs and cats. Last year, SNN performed more than 25,000 spay/neuter surgeries in 13 North Texas counties. Visit spayneuternet.org to learn about other ways to support this life-saving cause. Order your Easter Bone Hunt Box and enter your cat and dog in the Pet Costume Contest. Details are at spayneuternet.org/easter-bone-hunt/.