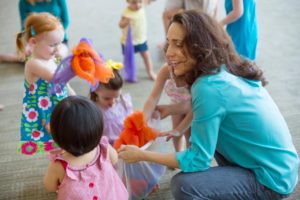 By Shari Goldstein Stern
When Lake Highlands actress Mindy Bell isn't appearing in a show, at rehearsal, sharing music and movement with 3-year-olds, working on a master's degree in mental health counseling, or taking care of her 90-year-old grandmother, she's getting very little sleep. When she does sleep, though, she dreams about some of the remarkable experiences she's had in her world of performance and those to come. 
Not the least of Bell's dream jobs was singing back-up for the astonishing Josh Groban when he performed at the American Airlines Center. "It was a very surreal experience," she said. 
With another dream job, Bell will appear in Pegasus Theater's "Broadway or Bust" (BOB) opening at the Bath House Cultural Arts Center Aug. 8-25, and she can hardly wait. The cast also includes Ellen Eberhardt, LisaAnne Haram, Charles E. Moore, Nancy Lamb, Mark Miller, Jeff Poteat, Mary-Margaret Pyeatt, and is directed by Bruce Coleman with musical direction by Mark Miller, set design by Maxim Overton and costumes by Michael Robinson, 
Bell (pictured at right) also dreams about her future. "I'd eventually like to practice expressive arts therapy in the White Rock/Lake Highlands area," she said. That dream is to apply mental health modalities to the arts in which you can express what appears and sounds best that is truthful. "The concept is a good fit for me, combining mental health and arts."
Bell said: "This summer has gifted me with two shows at The Bath House Cultural Center. In May and June, I performed in Imprint Theatreworks' 'Ghost Quartet.'The play was probably the most artistically fulfilling show I've had the chance to be part of yet. It was magic. Imprint is making great art in Dallas."
She continued: "Now I love performing with Pegasus Theatre and at the Bath House. There is something so peaceful about driving to the lake to put on a show. It's a great space for intimate theatre," she added. "Dallas needs more versatile and affordable performance spaces like the Bath House for all of our fantastic, burgeoning theatre companies." 
The actor said she has admired Pegasus' "Black and White" productions for many years because they hire local actors, create new work and seem to operate like a family. 
Bell has an extensive cache of other local credits, including "The Music Man" at Firehouse Theatre in which she played opposite Dallas' popular Max Swarner. She also appeared with Turtle Creek Chorale and in  Uptown Players' "Ragtime" and "Sweeney Todd." Bell has also worked at theaters in Rockwall and McKinney, along with Lyric Stage and more. She teaches outdoor Kindermusik classes for up to 3-year-olds at the Arboretum and Botanical Center on White Rock Lake once or twice a week. For almost eight years she has worked as a server at Rick's Chophouse in McKinney. Bell is nothing if not tenacious.
Respected Dallas artist Bruce Coleman is directing Bell in Pegasus Theatre's "BOB." 
Coleman said about Bell: "I am a huge fan of Mindy. She is extremely talented and approaches her work with such humanity and warmth it is kind of astonishing. Her level of reality in her characterizations is thrilling."
"Broadway or Bust" is a play within a play, in which Bell plays a single mother of three, Cynthia, who works three jobs to support her family. One night a week she rehearses with the Plush Pile Players, a Dallas community theatre group. 
The theater's name is a nod to the strip center space they occupy, a former flooring store. Bell said with a laugh: "The Plush Pile Players are putting on a production of 'Broadway Glitz' in which I have the leading part, and it's Cynthia's first musical ever. Many mishaps threaten the success of the show."
According to the actress, "The 'Broadway or Bust' cast is a dedicated and kind group. Bell appreciates being part of an age-diverse cast that represents — in life and in the show — so many different perspectives on a life of theatre-making." 
For information about "Broadway or Bust" and for tickets, visit comedy@pegasustheatre.com or call 214-821-6005.