By Ava Skipworth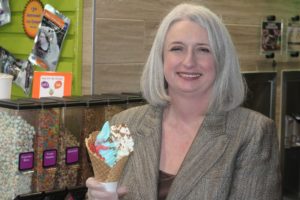 Monster Yogurt is helping Read Across America this month. Through March 2, all locations will be taking book donations to be delivered to local low-income schools. Local yogurt lovers are encouraged to donate new or gently used books so that no child is left behind when it comes to enriching themselves through the written word and immersing themselves in the world of books.  
Area residents can start the New Year off right by decluttering and rehoming the greatest of gifts: books! The National Education Association's (NEA) Read Across America is an annual reading motivation and awareness program that calls for every child in every community to celebrate reading on March 2, the birthday of beloved children's author Dr. Seuss. In addition, Monster Yogurt will trade one free ounce of frozen yogurt for every donation (up to 5 ounces free). At some schools, books are desperately needed, and research has shown that children growing up in homes without books, where books are considered a luxury, are less likely to complete a basic education than their peers who do have books available at home.
Chris Mireles, Monster Yogurt general manager, said: "We're always looking for ways to empower young people. In fact, we take pride in offering first job experience for many of our neighborhood teens. So, we're looking forward to delivering enough books for each child to take home. Many of the children would never own a book, otherwise."   
According to the NEA's website, motivating children to read is an important factor in student achievement and creating lifelong successful readers. Research has shown that children who are motivated and spend more time reading, do better in school. NEA's Read Across America also provides NEA members, parents, caregivers and children the resources and activities they need to keep reading on the calendar 365 days a year. Customers can drop off one book or a few daily and enjoy some of the best yogurt in town as a reward — all the while knowing the impact their contribution has had on a local child — as if that wasn't a "sweet" enough reward. Visit scarytastesgood.com for more information.