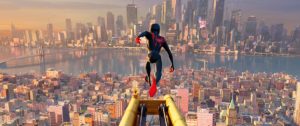 By Josh Ault
The entire community is invited to Robert T. Hill's Movie on the Hill event that is set for March 22. It starts at 6 p.m. and will be located on the field next to the school.
"The reason we have Movie on the Hill is to show off our neighborhood school," said Hill Principal Candice Ruiz.
Ruiz says they will be setting up a huge blow-up screen in the field and will be showing the movie "Spider-man: Into the Spiderverse." The movie recently won the Academy Award for best animated movie. She encourages families to bring blankets and lawn chairs to make the event more enjoyable.
"It is a great opportunity to see what is happening at our school," added Ruiz.
During the event, Hill has teamed up with Bryan Adams High School to have their very own signing day starting at 6:30 p.m. Eighth graders who will be playing sports at Bryan Adams will have their very own special recognition at the event.
"We are excited to collaborate with Bryan Adams," said Ruiz.
This is the fifth year Hill has put on the event. Along with the movie, student organizations will be providing food and beverages. There will also be student performances. 
In case of rain, the event will be moved indoors. Robert T. Hill Middle School is located at 505 Easton Road.