By Brooke Tinch
On Oct. 25 and 26, the White Rock Rowing team travelled to Austin, Texas to compete at the 35th Annual Pumpkinhead Regatta. The teams exceeded expectations and proved to be stiff competition for this season's regatta circuit. Under the leadership of Jackie Davidson, new head coach at White Rock Rowing, several teams medaled at their first traveling regatta of the season.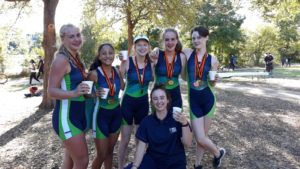 The Varsity boys kicked off racing for White Rock. Sam Tharp and John Jungerman placed fourth in the Men's Junior 2x, while the Men's Junior Quad of Gordon Moore, Peyton Lewis, Braden Lee and Ben Winslow placed sixth. The boys continued to race hard in the Men's Junior 8+ and Men's Junior 4+ against some very strong competition.
Margaret Moss was the first of the Varsity Girls to race, placing sixth in a very competitive Women's Junior Single. The Varsity girls raced some very tough competition and battled strong in both the Women's Junior 4x and Women's Junior 2x.
The novice team raced very competitively in their first competition of the season. They started strong with a top five finish from Humberto Gallego and Mateo Calderon in the Men's Junior Novice Doubles. The momentum carried over with the boys picking up medals in their remaining events. The Men's Junior Novice 4+ of Sam Long, Paul Lea, William Lipper, Lucas Van Witzenburg and Mateo Calderon placed second, just a few seconds off first place. The Men's Junior Novice 4x of Sam Long, Humberto Gallego, William Lipper and Mateo Calderon walked away with a bronze medal. The Novice Girls also had an impressive showing. The Women's Novice 4x of Sophia Medina, Naomi Geiger, Sophie Geiger and Isabella Cooper placed first and had a strong performance from their other Women's Novice 4x of Zoe Cramer, Francesca Gilbard, Elle Chavis and Kaila Galliford.
The Novice Girls continued to collect medals in the Women's Novice 2x and Women's Novice 4+. Sophie Geiger and Isabella Cooper placed second in the Women's Novice 2x. The novice girls finished off the day for White Rock by capturing another gold in the Novice 4+ with a strong lineup of Isabella Cooper, Naomi Geiger, Sophie Geiger, Sophia Medina and Francesca Gilbard.
With some young athletes competing for the first time, and others seasoned athletes, White Rock Rowing is poised to be a leader at upcoming races. The programs develop rowers at all levels, from beginners to competitive masters. For more information about the group, visit whiterockrowing.org.