THE STATE FAIR OF TEXAS
By Shari Goldstein Stern
There's a new kid on the deep-fried block at the State Fair of Texas (SFOT), and he can't wait to offer you his Frose, Nanner Pudding and, his specialty, Nashville's Hot Chicken Sammich, the MotherClucker. Palmer Fortune and his wife, Amanda Fortune, have worked painstakingly to build a concession that will become a favorite with fairgoers in the tradition of Fletcher's, Fernie's, Jack's, the Dock, Abel's fried everything and other veteran SFOT professional foodies. 
The concessionaire's restaurant, Palmer's Hot Chicken, opened in Hillside Village in October 2020, and has become a go-to spot in the East Dallas area. Now the Fortunes will serve SFOT crowds some of their specialties at Palmer's Hot Chicken on the Midway near the Greenhouse. 
A Dallas native, Fortune grew up in Tyler and Austin, but made his way back to Dallas after opening two successful restaurants in Georgia. 
SFOT writers describe Palmer's signature dish at the Fair like this: "There's a new bird in town, Nashville Hot Chicken. This elevated fried chicken sandwich will make your mouth water. A filet of juicy Nashville Hot Chicken is fried and then paired with homemade pimento cheese and pickles, the perfect combination of creamy and crunchy." Fortune likes to add that the chicken is fresh, never frozen.
Gator Tots and Smothered Tots, smothered with homemade pimento cheese-based queso sound like good choices. "We are also serving our never frozen, hand breaded Jumbo Tenders, which can come with no Nashville heat, mild Nashville heat or hot Nashville Heat," Fortune added. 
Homemade Nanner Pudding includes fresh, sliced bananas, homemade whipped cream and Vanilla Wafers. Palmer's own Frose is a Rose Wine Slush. The booth will serve Troy Aikman's Eight Beer and Miller Light, both on draft, along with bottled soft drinks and water.
According to Fortune, Melanie Linnear, SFOT senior vice president — food service, became a good customer of his East Dallas restaurant and invited Palmer's to be the exclusive Nashville Hot Chicken vendor for this year's SFOT. "That's something we are very grateful to be a part of," the entrepreneur said. "Now we plan to work our tails off for 24 days straight and just be a good representative for the SFOT."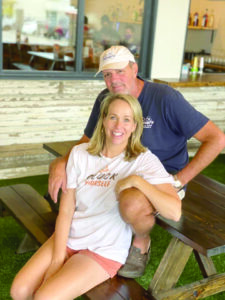 "We have a core of 14 team members who have been with us since we opened the restaurant door, and words cannot express how lucky we are and grateful for them," Fortune said. "My staff takes ownership in the business. They are loyal and share our vision for the restaurant and this State Fair enterprise." Fortune credited SFOT's mentorship program for new vendors as being very helpful in starting up.
Linnear said the first time she visited the restaurant was during its first week of operation in 2020. "I was impressed with the quality of Palmer's food," the VP added. Because Fortune still lived in Georgia until 2021, he and Linnear didn't get to finish the conversation. 
"I knew it would be a great product at the Fair," Linnear said. "It took me over a year to make another connection, and it was due to a chance meeting with him participating in the Celebrity Chef Kitchen at the 2021 Fair. I vowed to not lose contact with him again."
  Linnear continued, "Palmer is a great restaurant operator and gives 200 percent to his operation and his employees. He has a great product." She said she tried many other restaurants offering Nashville Hot Chicken. "For some reason, I was constantly drawn back to Palmer's. They have the best side dishes, but everything on his menu is great. He will always ask me if I think he is overthinking his operation. I always tell him, 'Yeah Palmer, you are, but better safe than sorry and better represented than misrepresented.' We laugh and he moves on to worry about something else."
"My wonderful wife Amanda is my rock and my everything. She is our CFO and bartender. She does it all and we wouldn't be where we are without her skills and direction for sure," Fortune boasted. 
Amanda has taken time off her job to work with her husband at the Fair. The couple has the fortune of two soccer-champ sons. 
Karissa Condoianis, senior vice president, public relations said, "The Fair is excited to welcome Palmer's Hot Chicken to the Fair this year, along with so many other great, new vendors. Part of the fun of the Fair is trying the new food, and we know that Fortune and Amanda are going to be great additions to the State Fair concessionaire family."