By Shari Goldstein Stern
Jonathan Norton has a compelling story to tell about fear, empathy, conflict, compassion, angst and unconditional love. His play, "penny candy" is the playwright's autobiographical story of growing up in Dallas' Pleasant Grove neighborhood. "Jon-Jon" was a 12-year-old Norton in the summer of 1988 when his story takes place. The writer tells it through a talented cast in Dallas Theater Center's (DTC) current production of "penny candy," running at the Wyly Sixth Floor Studio Theatre through July 14.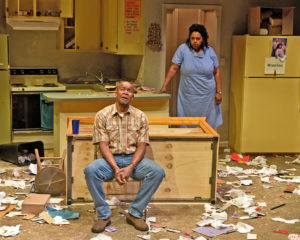 "penny candy" was commissioned by DTC, for which Norton was named artist in residence. The playwright said that about 70 percent of the play is based in fact; about 30 percent is fiction, leaving this patron's imagination running wild as to what is made up and why. There are some grim scenes that you will sincerely hope are not factual, but will wonder, "What was he thinking?"
Norton's inspirations are his memories of the people who framed his childhood at a time when street gangs, violence, guns, drugs and racial tensions ruled Dallas' Pleasant Grove community, while law enforcement was losing the struggle to do its job the right way. The playwright said, "'It takes a village' sounds cliché, but it's true about family and relationships." He said it took him two years to write the play.
Jon-Jon, played with maturity by Esau Price (Norton as a 12-yr-old), lives with his parents in a dingy, gaudily decorated one-bedroom apartment that doubles as his and his dad, Dubba J's, snack shop: Paw Paw's Candy Tree. The story is about the family as it tries to balance its community and family responsibilities. Jon-Jon says, "I learned how to do drugs on 'Nightline' with Ted Coppell."
Norton said he knew he needed Liz Mikel for the role of his mother, Laura Mae. A member of DTC's Brierly Resident Acting Company (Brierly), Mikel typically sets the bar high for her fellow actors and plays every role as though it was written for her. This one rings true. It's hard to imagine anyone else in the part. Maybe pillar-of-strength, award-winning actress Viola Davis could understudy Mikel. The well-admired Mikel relies on her broad range of pathos, understanding, unconditional love, humor, vulnerability and strength that make her a natural in this role of an endearing character. She's the glue that holds her family together through its many challenges. She's determined to get Dubba J out of the candy shop and into Walmart as layaway manager, which she describes as, "The most feared in the store." At one point, she interjects to her husband, "What kind of a wife would I be if I took your word for it?"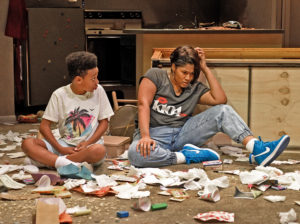 Price as Jon-Jon set his bar high as well. The seventh grader at Harry Stone Montessori School has appeared in DTC's "A Christmas Carol," Soul Rep Theatre's "Freedman" and short film, "A Yen for Princess Agua." He has played in several school productions and portrayed Luke Skywalker in a satirical, short film at Kim Dawson Studio's, "Star Wars." While Jon-Jon's snow cone concoctions are the shop's signature treat, you can imagine scents of his popular, melted, faux cheese nachos and popcorn that must have filled the air in the tiny store.
Surrounded by constant chaos, Jon-Jon is authentic as an old soul who had to mature quickly while confronted with making the right choices. Ace Anderson, for example, is perfectly cast as the conflicted bad boy, Kingston, who really has a heart and wants to protect Jon-Jon's family but also faces influences with dark expectations. Like most relationships in the story, his are messy. He means well but feels like he doesn't have a choice but to follow his peers. Anderson is a busy actor as part of the Brierly.
Norton's earlier plays include "My Tidy List of Terrors," which premiered at the South Dallas Cultural Center, and will be revived at the Jubilee Theatre in 2020. "homeschooled," premiered at the African American Repertory Theatre and, like PC, received support from Dallas' Arts Community Alliance (TACA) New Works Fund. 
In addition to DTC, his work has been produced or developed by Theatre Three, Black and Latino Playwrights, Bishop Arts Theatre Center, Soul Rep Theatre Company, Kitchen Dog Theatre and others. He has garnered awards and honors including an Artistic Innovations grant from the Mid-America Arts Alliance, Jubilee Theatre's 2019 Eastman Visionary Award, and was a finalist for the Harold and Mimi Steinberg/ATCA New Play Award. He earned the TACA Donna Wilhelm Family New Works Fund, and his "Mississippi Goddamn" earned the M. Elizabeth Osborn New Play Award when it premiered at the South Dallas Cultural Center. Norton will introduce his new work, "A Love Offering," at a time in the future. 
Tiana Kaye Blair, Leon Anderson Brown, Claudia Logan and Jamal Sterling, under the direction of Derrick Sanders, round out the cast of strong, skilled actors, each of whom adds depth to the story as directed by Sanders. 
They describe the symbiotic relationships they developed while collaborating with Norton's words and each other's imaginations. Each had some input reflected in the final script. "For example," Norton explained, "Ace came up with the idea of his Jamaican accent, which I think added some interest."
With clever lines about such local celebs as Al Lipscomb and J. Wiley Price, there are plenty of good laughs throughout the dark comedy. Jon-Jon and his Mom get lots of laughs out of references to Vacation Bible School.
John Grimes and his wife, Michelle Grimes, were in the audience the first week, and were touched by the play. "Growing up in North Dallas you had no idea what it was like to grow up in another neighborhood. We couldn't imagine that it could be so different and difficult."
"penny candy" is recommended for ages 15 and older and will run through July 14 at the Dee and Charles Wyly Studio Theatre, 2400 Flora St. For tickets and additional information, visit DallasTheaterCenter.org or call 214-522-8499.