By Lisa K. Miller
We all know this one… "Row, row, row your boat gently down the stream. Merrily, merrily, merrily life is but a dream." We merrily sang that song as children in school and at summer camps, yet probably never really thought about what it meant. Dr. Wayne Dyer, a renowned motivational speaker, shines a light on the simplicity and power of this nursery rhyme. He believes that the song is a metaphor for life.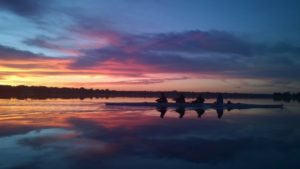 The first line of the song is "row your boat." What does that mean? It's "your boat," your life to navigate — not your kids, not your parents, not your friends, not your boss — it's your boat. Rowing teaches local youth to take ownership and accountability in what they do on and off the water. Rowing "your boat" take focus, patience and commitment. When you stop rowing, your boat stops, and you don't move forward.
Yes, there will be challenges in life to face. Do we want to go "gently down the stream" or fight the currents and fight hard to move upstream? Going downstream means that you face adversities head-on versus avoiding them.  
"Merrily" speaks volumes to having a positive attitude towards life. Facing any challenge is easier when you assume positive intent and have a glass half full, not half empty state of mind. 
"Life is but a dream" represents our outlook on life. The nursery rhyme reminds us that rowing mirrors life and at Dallas United Crew, we see it each and every day on the water. A female high school rower spoke from her heart about how rowing changed her life. 
"High school is hard. I have so much homework. After school, I have crew. Getting to go on the water and row all of my anger and frustration from the day is what keeps me sane. Before I started crew, I would get so worked up about school, and it took a toll on my mental and physical health. When I joined crew, in a matter of weeks I could see a drastic physical and mental change. I got out of the house more, I quickly learned how to manage my time more wisely, and I made so many more friends. Not only that, but I had confidence for the first time in a long time, and I was proud of myself and how much I had grown as a person in such a short time! Crew is my safe place where I feel free to be myself, and where I feel most at home. I don't know where I'd be today without it!"
Dallas United Crew is hosting a free open row on Nov. 16 from 10-11 a.m. for students in eighth grade through twelfth grade, plus offering a free two-week trial. To learn more about rowing with DUC, visit dallasunitedcrew.org.