By Chic DiCiccio
Love it or hate it, the one thing that everyone can take away from "Once Upon a Time … in Hollywood" is that director-writer Quentin Tarantino sure loves Los Angeles. More specifically in this case, 1969 Los Angeles. After three or four lengthy shots of his characters driving around the city, Tarantino puts the glitz and grime on screen in dazzling nostalgic fashion.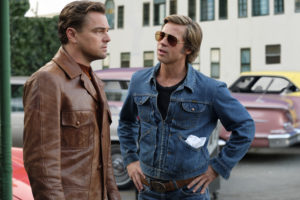 By the fifth sequence such as this, it's clear that Tarantino is unable to self-edit. In fact, there are entire sections of the film that prove he has no self-control whatsoever. This 161-minute opus could easily have been cut to 120 minutes or so to create an even more taut, intense and surprisingly hilarious thrill ride. 
At its core, this movie is a bromance between washed up TV actor Rick Dalton (Leonardo DiCaprio) and his longtime stuntman/assistant/best pal, Cliff Booth (Brad Pitt). Cliff is a bit long in the tooth for normal, everyday stunt work, and Rick's career has bottomed out after his long-running TV western, "Bounty Law," was cancelled. Rick moves from guest spot to guest spot as villains on numerous shows while begging producers and directors to get Cliff in the production. 
Real life and Tarantino's fictional world collide when we learn that Rick's new Cielo Drive neighbors are newlyweds Sharon Tate (Margot Robbie) and Roman Polanski (Rafal Zawierucha). As Hollywood's latest power couple, it both excites Rick that they are his neighbors and exacerbates his insecurities. 
While Rick is on set, Cliff runs his errands and does his housework. He also picks up a teenage hitchhiker (Margaret Qualley, with an unprintable character name) and he takes her to her home, which happens to be the Spahn Movie Ranch and home of the Manson Family. 
Tarantino then weaves in and out of Rick and Cliff's life parsed with intermittent moments of the lovable and kind Sharon. Moments like Cliff's confrontation with Squeaky Fromme (a stunningly creepy Dakota Fanning) and Sharon's sheer joy over an audience's reaction to her film, "The Wrecking Crew," are pure magic. The high-water mark is the battle of tough guy 'tude between Cliff and Bruce Lee (Mike Moh).
While he's fantastic, the movie drags during DiCaprio's sections. His heart-to-heart with an 8-year old actor is DiCaprio at his finest and could be his number one career highlight. But Tarantino goes too far and shows us excruciatingly long moments of the show that Dalton is starring in. One scene featuring the late Luke Perry is pointless and could harmlessly shave 10 minutes from the film. 
The cameos are nonstop with Al Pacino's slick-talking agent as the highlight. Blink and you'll miss Michael Madsen, Kurt Russell, Scoot McNairy and Clifton Collins Jr., among others. 
While this movie is pure Tarantino, it absolutely belongs to Brad Pitt. His coolness just pours off the screen and it could create a market for vintage Champion T-shirts. He has an everyman quality, even though he's better looking than 99 percent of the general public. Pitt is so fantastic that his career-topping performance overshadows the ultra-violent climatic scene. 
Like a spaghetti western, Tarantino takes his time to bring everything together in "Once Upon a Time … in Hollywood." 
Fact and fiction collide in both careless and ingenious ways that end in a finale that is surely to be divisive. While it's a fun stay in Tarantino Land, you may wish he had taken a slightly less scenic route.