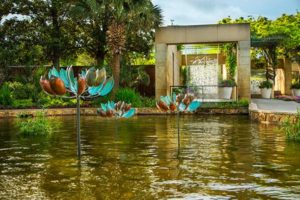 By Krista Gabbert
With the ever-changing explosions of colorful summer foliage and flowers, Wind Sculptures in Motion: The Kinetic Art of Lyman Whitaker, presented by Reliant, has been extended through August 31 at the Dallas Arboretum, coinciding with August Dollar Days. For the entire month, main garden admission is $2, another $2 for the Rory Meyers Children's Adventure Garden and $5 for parking.
  Dave Forehand, Dallas Arboretum's vice president of gardens, said, "Be sure to take advantage of this hot deal to see these magnificent outdoor sculpture exhibits set among the beautiful floral back drop of the gardens. With general garden admission being only $2 per person, we want more people to enjoy the gardens."
Each piece of Whitaker's artwork is organic in nature and responds to the changing currents of the wind, which provides its special movement. Whitaker hand-produces these innovative sculptures with a high degree of mechanical integrity and quality craftsmanship. The 140 sculptures range in height from five to 27 feet, and his copper wind spinners are mesmerizing juxtaposed with the beautiful gardens.
Summer at the Arboretum is one of the most beautiful seasons all year, as all the summer plants soak up the warmth and reach peak color. Relax in the cooling mist of the Palmer Fern Dell, cool off in the fountains of Toad Corners (pictured at left), stroll through the shade of the Lay Family Grotto, enjoy a picnic in the shaded Pecan Grove, or stay cool exploring the Rory Meyers Children's Adventure Garden under 8,000 square feet of misters. Parking for the entire month of August is $5. For a full list of August events, visit dallasarboretum.org.