By Shari Goldstein Stern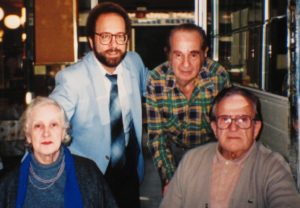 Many Americans across the country can tell you where they were November 22, 1963, who they were with, and how they felt during the sequence of hideous events that day and the days that followed. Those living in Dallas felt an indelible pain.
While history buffs, conspiracy theorists and fanatics alike continue to study that dark period, less attention is paid to the collateral damage, families whose lives changed forever, and the carnage left behind.
Lee Harvey Oswald, JFK's alleged assassin, was captured by the Dallas Police Department and taken into custody barely an hour after the 1963 shooting. First, though, he murdered Dallas Police Officer J.D. Tippett who tried to halt him. Thirty-minutes later, police captured Oswald at Oak Cliff's Texas Theater.
November 24, 1963, while the world was still reeling, Dallas police officers were transferring Oswald from the City's basement when club-owner, Jack Ruby lunged from the crowd and fired one fatal shot at Oswald from a concealed .38 revolver. Ruby was charged with first-degree murder.
Ruby's nephew, Fred, is the son of Ruby's brother, Sam. Earl Ruby is Jack's other brother, and the brothers have two sisters. On Nov. 25, 2014, Fred Ruby was interviewed by Stephen Fagin, associate curator for the Sixth Floor Museum as part of its Oral History initiative. Fred said that he hadn't known his Uncle Jack well, but recalled, "I know he had to have been dealing with organized crime. In those days if you had anything like a strip club, you'd have had to have gone to the mob to get your linens, so they didn't kill you. You had to go to the mob to do your trash collection, or they'd kill you. If you were dealing with the musician's union or the organizers for the strippers, those were all mob controlled. You didn't have a choice."
Fred told Fagin that he was watching Oswald on TV being transferred through the basement and said: "I watched somebody come in off the screen from the right side and shoot Oswald. I yelled out. My mom came in the room to see what was going on, and they announced the shooter was my Uncle Jack Ruby. She collapsed."
According to Fred: "The last time I went to see him [Jack Ruby in prison] he had definitely lost connection with reality. There's a thick glass plate between us and him, and he's wearing the white jailhouse smock. And he had this very … just incredibly wild-eyed look on his face. And there's this siren that starts up because it's a police station, and he goes, 'You hear that? They're torturing Jews in the basement!' He was out of his mind obviously. And you know, [at] 12, 13 years old, it was painful, really painful."   
Jules Mayer and his Dallas law office of Mayer, Mayer and Levin probated the will and estate of the alleged shooter, Jack Ruby. Jules and Charles Mayer are deceased. Attorney Marvin Levin had this to say: "In 1990, Jack's brother, Earl Ruby, contested his brother's probated will. Jack's possessions at the time of his arrest were the gun used to take down Oswald, a watch, some rings and the clothes on his back including the $100 Cavanagh-style hat, and trench coat seen on him by millions over the years." The FBI was in Levin's office repeatedly.
The firm had represented Ruby in a few cases throughout the years. When Levin joined the practice, he and his partners incorporated their client's Carousel Club. Levin has practiced law in Dallas for 50 years. His wife, Shirley Levin, joined the practice — now Levin Law Firm — in the 1960s.
"Jack actually had a big heart. He took care of his sisters in Dallas and Chicago, his original home," said Levin. "He always supported the women who danced in his nightclub. Due to the nature of their work, they attracted some unsavory characters and were often a target for crime," Levin said.
"I represented some of his employees when they needed help getting out of jail or getting a divorce, for example. We defended Ruby in some of the law suits filed against him over the years," added Levin. The law firm also maintained Ruby's legal and business records. When Ruby was arrested in 1963, it was Jules Mayer whom he called.
California criminal defense attorney Melvin Belli was hired to handle the Oswald case. Ruby's conviction was waived on technicalities. Judge Joe B. Brown reversed his conviction by the appellate court.
Jules Mayer was named as executor and handled Ruby's estate. District Attorney Henry Wade met with Levin and Mayer to turn over to them Ruby's personal belongings. The attorneys stored them in a safety deposit box. Jules was going to hold onto the gun until it was worth enough to bail out Ruby's estate.
Earl filed three separate suits in probate court asking to remove Mayer as executor of Ruby's estate. He wanted to be named executor and have possession of his brother's belongings. Eventually, Judge Joe B. Brown reversed his conviction in the appellate court. Earl was so excited about having the gun, he went to Washington to show it to his congressman. He got arrested for carrying a gun. He subsequently sold the gun for $220,000, which enabled him to pay off his $160,000 debt in back taxes to the IRS.
Levin's father-in-law, Rubin Goldstein, and two other professionals appraised Ruby's gun, watch, rings, and his infamous hat.
Jack Ruby said in his statement to Dallas police and the FBI after the shooting, "I don't remember anything that happened except walking down to the basement and being pinned down on the concrete with people on top of me."
Later, Ruby explained his motive like this: He didn't want the First Lady to bear coming back to Dallas for a lengthy, painful trial and being called as a witness. He wanted to save her from that.
Ruby died from cancer Jan. 3, 1967 in jail. "Jack Ruby was never tried and found guilty," said Levin. "He died an innocent man."