2 white onions, sliced 1/4 inch thick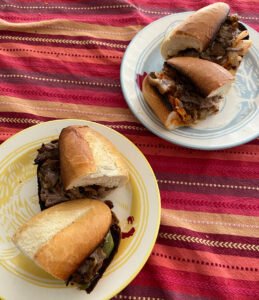 1 6- to 8-pound bone-in pork shoulder
1 cup apple cider vinegar
1 cup whole grain mustard
1 cup dark brown sugar
2 tablespoons Louisiana-style hot sauce
Salt and pepper
Crusty rolls and pickles or kim chi, for serving
Heat oven to 200F. Spread the onions evenly over the bottom of a 9×13 baking pan. Place pork shoulder on top of them. Season with salt and pepper.
In a bowl, whisk together the vinegar, mustard, brown sugar, and hot sauce. Pour over the pork shoulder. Cover with foil and place in the oven. Roast for 8 hours. Uncover and roast for 30 minutes more.
Let stand until cool enough to handle, then pull meat from bone. Transfer pan juices and onions to a saucepan and bring to a boil over medium heat. Let reduce by half, then stir into shredded pork. 
To serve, top split rolls with pork. Garnish with pickles or kim chi.