By Jennifer Hoesterey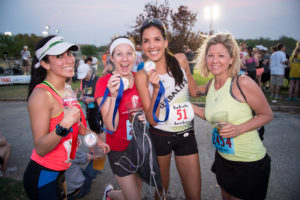 White Rock Lake Conservancy has partnered with the City of Dallas Park and Recreation Department to bring Celebration! White Rock, the fifth annual 5k/10k race and festival to be held on April 5 from 6 to 8:30 p.m at Winfrey Point on the east side of White Rock Lake.
This is an opportunity to run at White Rock Lake, a place that is a mecca for area runners and has been all but closed for races. The 10k race begins at 6:15 p.m., the 5k at 6:30 p.m. and the post-race festival will begin at 6:45 p.m. with a bounce house, live music from local band The LAB, and other activities for children. Food and drinks will be provided by local sponsors such as Lakewood Brewing Co., Oak Highlands Brewery, Hypnotic Donuts, Hypnotic Emporium, El Vecino, TCBY, Blue Mesa, The LOT, Smoky Rose, LifeAid Beverage, Xyience, Juice Bar Lakewood, and many more.
"White Rock Lake is the largest inner-city lake in the world," running coach Chris Phelan said. "It is Mecca for runners, cyclists, walkers and sailors. Therefore, it is to be looked after. By me. By you. By ALL of us. Everyone, EVERYONE who uses this lake in ANY capacity, has a chance to support it simply by coming out to run, jog or walk this event. Come out. It's your duty. Besides, you'll have a heck of time! It's the best sunset and block party in Dallas!"
Pricing is $35 for the 5k and $45 for the 10k. After March 8 the pricing will increase to $45 for the 5k and $55 for the 10k. There is a suggested donation of $20 for those attending the festival but not participating in the race. This event is the largest fundraiser of the year for the White Rock Lake Conservancy. The organization seeks to raise funds for the Dallas Park and Recreation Department to fund major renovation and restoration projects. The net proceeds from this year's event will be used for restoration projects at White Rock Lake Park. For more information, visit: whiterockdallas.org/race.