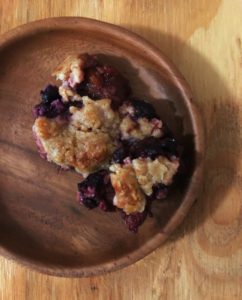 Filling:
2 pounds peaches, peeled, pitted and cut into wedges
12 ounces blackberries
3/4 cup brown sugar
1 tablespoon cornstarch
1 teaspoon cinnamon
1/4 teaspoon cayenne pepper (optional)
1 teaspoon kosher salt
Topping:
1 cup old-fashioned rolled oats
1/2 cup (packed) light brown sugar
2 teaspoon cinnamon
1 teaspoon kosher salt
1/2 cup (1 stick) cold unsalted butter, cut into small pieces
Heat oven to 400F. In a bowl, combine filling ingredients and toss to combine. Set aside while making the topping. 
In a bowl, combine the oats, sugar, cinnamon and salt and whisk to mix. Use your fingers to rub the butter into the mixture, until there are no more dry pieces in the mix. 
Spread the filling into a 9×13-inch baking dish. Scatter the topping evenly over the filling. Bake until the filling is bubbling and the topping is browned, about 30 minutes. Let stand for 10 minutes before serving.