By Shari Goldstein Stern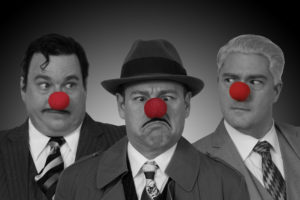 Following 33 notable years of presenting inventive theater to Dallas and North Texas-area audiences, Pegasus Theatre's 20th In Living Black & White installment, "Clowning around with Murder" ("Clowning") opened with its traditional New Year's Eve premiere to a full house at the Charles Eisemann Theater.
For regular Pegasus theatregoers who know what to expect, "Clowning" still brings surprises, as the shows have for 20 years. New patrons only need to know that Dallas playwright, actor and Leon Rabin award-winner Kurt Kleinmann devised a new form of theater a quarter century ago that's been thrilling area audiences with fresh material and abundant laughs every year since.
The trademark Black & White style is live theater that mimics vintage black and white films of the 1930s and '40s through imaginative use of makeup, costumes, sets, lighting and props. Three characters are staples in the Black & White series. Harry Hunsacker, "World-famous detective and aspiring actor" leads every show with his bungling absurdity and moronic behavior. Kleinmann wrote the Hunsacker role for himself and only recently retired from the role, passing Harry's hat to Scott Nixon, his understudy for many years. Nixon took over the role seamlessly. His stylized performance mirrors Kleinmann's slow-on-the-uptake personality. 
Chad Kline continues his role as Lt. Louis Foster "of the real police" and is always a formidable character actor. He has appeared on Dallas stages including Theatre Too and has been seen in national commercials, television and in film. He works on radio and does VO work in Anime.
Returning for his 10th show as Nigel Grouse, "Harry's paid-by-the-hour assistant" is played by Ben Bryant, who says, "'Clowning' has a lot of what makes the Hunsacker scripts enjoyable: a fun setting, which alternately finds Harry at home and at the mercy of the clowns; quality detective time with the main trio of Harry, Nigel and Foster; and a high impenetrable mystery."
The actor commented on working with Nixon after Kleinmann in the role of Harry: "Scott definitely brings his own energy. It's like carpooling with a driver who knows we're heading for the post office but takes a parallel street a block over."
Bryant grew up in Greenville, Texas, where he aspired to be part of the big city theater scene in Dallas after his exposure to acting, initially in first grade, and then playing roles through middle and high school. He earned a degree in theatre from Texas A&M-Commerce. "By that point, I figured acting was an easier job than the phone company or going into medicine, so I headed for where I knew the work was, in Dallas."
The actor said that Nigel is a great character to play. "On the surface, he's very suave and composed, but when you look at his backstory as a recovering alcoholic whose habit exacerbated problems in his dying marriage, you see he's dealing with a lot of pain," he added. "Part of the fascination Nigel holds for me is how he attempts to help Harry do good while facing down reminders of his past life."  
Bryant says that his day job is with Undermain Theatre, where he's in his thirteenth year working lights, sanitation, answering phones, minor bookkeeping, pest control, interior design and deliveries. He's been seen in roles at other area theaters including the Ochre House, Shakespeare Dallas, Wingspan Theatre Company and Bootstraps Comedy Theater. He has performed at Dallas Children's Theatre, Pocket Sandwich Theatre, Theatre Too, Nouveau 47 and Theatre Arlington. He's held roles with Stomping Ground Comedy Theatre, and One Thirty Productions, along with the sadly-closed Contemporary Theatre of Dallas. 
The actor occasionally provides voice talent for Funimation. "Sometimes, it's a bit part, as small as a gasp, and sometimes it's a recurring role, like a magical talking clock or a millionaire industrialist. I've met several new friends there, and it's a fascinating process," Bryant said.
Michael Serrecchia directs Kleinmann's Black & White shows and, as always, earns respect from his casts. "Michael has tremendous faith in his actors but knows when to hold up a hand and say, "Let's try …," which is a powerful and not necessarily universal trait. He's also got tons of patience, which comes in handy when everybody in the room is trying to speak at once," Bryant said.  
When asked about any changes Nigel's costume over the 10 years, Bryant quipped, "I have it on good authority that my suit has been taken in for the last two years."
As always, Michael A. Robinson is larger than life in dual roles as Professor Pratfall and Pinky Buttons. As costume designer, Robinson created a striking array of clown costumes incorporating the black and white standards. His Pinky Buttons jacket is a masterpiece, as are many of his award-winning costumes throughout the years.
There's got to be a reason networks like Turner Classic Movies do so well with vintage 1930s and 1940s black and white films. "Casablanca," "42nd Street," "The Heiress," come to mind. They are so deliciously corny, so embarrassingly engrossing, and so memorable with a smile and a chuckle. Pegasus' productions are that good.
According to Barbara Weinberger, executive director and managing producer, "[Ben] is amazingly versatile. It's rare these days to see an actor with Ben's range. This made it possible for Kurt to write a very atypical role for Nigel in 2018's 'A Minor Case of Murder!'"
"Ben immediately understood the nuances of Nigel's character," Weinberger continued. "It isn't enough to play Nigel as ramrod straight. Nigel has a genuine fondness for Harry. Harry, after all, saved Nigel from a life in the gutter. Nigel is protective of Harry, almost like an older brother. It's a sweet dynamic and Ben nails it every time. In Ben's hands, Nigel has acquired quite a large fan club! We attribute this to Ben's dashing good looks and debonair ways."
"Clowning around with Murder" will be presented in Living Black & White through January 20 at the Charles W. Eisemann Center in Richardson. Call 972-744-4650 or visit pegasustheatre.org for more information.