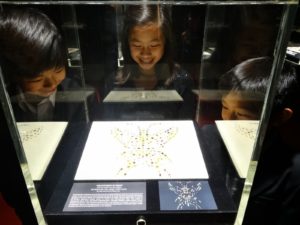 By Taylor Mayad
Continuing its commitment to keep content relevant and exciting, the Perot Museum of Nature and Science unveiled a refreshed Lyda Hill Gems and Minerals Hall this week. 
Enhancements to the Lyda Hill Gems and Minerals Hall include a redesigned floor plan and new opportunities to educate and engage guests while highlighting one-of-a-kind signature displays and beautiful new pieces. Known for extremely rare and significant specimens, the Museum uses a pioneering "loan-versus-own" collection method to display and regularly rotate some of the world's highest-quality gems and minerals, allowing citizens of North Texas to explore Earth's art and be inspired to learn more.
"By bringing the world's most exceptional gems and minerals to North Texas, we hope to inspire guests to more deeply connect with this fascinating science," said Dr. Linda Silver, Eugene McDermott Chief Executive Officer of the Perot Museum of Nature and Science. "With a revitalized and redesigned gallery and the addition of the new Gems and Minerals Center of Excellence, the Museum is positioned to attract the most significant pieces in the world. We will be a leading authority for gem and mineral education for years to come."
With information presented in English and Spanish, the refreshed Gems and Minerals Hall features a total of 37 cases, including four new signature displays with large, easy-to-use touchscreens. One signature case highlights birthstones (including the months with more than one) in both rough form (in its natural state from the ground) and faceted form (cut for artistry purposes). An additional display showcases exquisite jewelry created from the birthstones for each month, which will rotate 12 times per year. 
The Eyes of Africa, a show-stopping "alien eye" fluorite from Namibia on loan from Lyda Hill, gets its proper due in a larger case with updated details about its intriguing backstory. A third case displays a magnificent example of stibnite with robust clusters of crystal formations recovered from an industrial mine in the Jiangxi Province of China. Rounding out the premier cases is the beloved "grape jelly" geode – a 5-foot-tall amethyst geode – that invites guests of all ages to crank it open for a glittering peek. 
Another stand-out piece in the gallery includes the luminescent "Aurora Butterfly of Peace" on loan from owner and curator Alan Bronstein. The work of art is comprised of 240 colored diamonds (some that fluoresce) in the shape of a butterfly that Bronstein says symbolizes a "spiritual connection to Earth for all humankind." 
With colors ranging from fiery orange to tranquil blue and rosy pink, the "Aurora Butterfly" took 12 years to create and is adorned with diamonds from nearly every continent on Earth. On display through spring, the "Aurora Butterfly" is surrounded by a rainbow of mineral cases each dedicated to a different color.