By Sara Newberry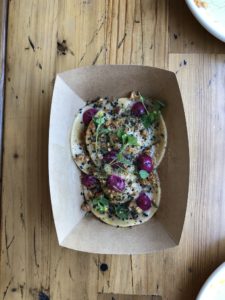 Usually when I struggle with writing one of these reviews it's either because the experience was so bad I am trying to think of something nice to say, or the experience was so mediocre I'm trying to think of anything to say at all. This time I'm not having either of those issues. This time I'm in love with the food, but I'm a little ambivalent about sharing what is almost a secret place that is turning out some of the most inspired and innovative dishes I've tried. 
Petra and the Beast is the brainchild of Misti Norris, formerly of FT33, Nonna and Small Brewpub in Oak Cliff (she was nominated for Rising Star of the Year by the James Beard Foundation during that stint). Initially a pop-up, the brick-and-mortar space was supposed to be a six-month experiment that Norris would then revisit. It's been about a year now, and judging from the crowd during my last visit, it's going well. 
Located in an old gas station on a block that isn't known for its dining options, the place looks unassuming from the outside. Inside, the decor is sparse, with animal skulls and herbs drying in bunches suspended from the rafters, giving the space a haunted ranch kind of feeling. Behind the counter, cooks work quietly, plating dishes in cardboard boats. The energy in the room is calm but happy. 
The chalkboard menu changes often, but there's always charcuterie ("Meatums"), pasta dishes ("Noods") and a sort of miscellaneous selection ("Snacks"). Snacks can range from local greens with "egg textures" (more on that later) to crispy smoked chicken hearts with parmesan and broccoli. Meatums, the charcuterie plate, kind of encapsulates what this place is all about: meats have been cured and processed in house, creating unique flavors and textures that you won't find anywhere else. An intensely liver-y chicken liver mousse has been a mainstay, so tangy that it almost tastes as though there's citrus involved. N'duja, another regular, is smoky and spicy, complemented by crunchy/chewy toast points of Brockstar bread (made by local cook Brock Middleton). Terrines and sausages fill the rest of the tray, flavored with ingredients like koji, hyssop, coriander and dill. Housemade crackers, jam, mustard and pickles fill out the rest. (I recently asked a server at another restaurant what comprised the charcuterie board. "Four dried meats?" was the answer. I want to take one of these to that place and show them what charcuterie can be.)
"Noods" are more than just mere pasta: they are handmade versions of pastas, often incorporating unusual flours and ingredients. A golden beet ricotta ravioli was substantial — no wispy pastas here — and perfectly seasoned. A beautiful beet puree and crumbles of rolled oats added color and texture, while wild clover added a little vegetal bitterness. It is as close to perfect as a dish can get. A kamut cavatelli was sauced with a pork-based ragu bianco, its richness lightened by paper-thin slices of radish and mint leaves. A rye pappardelle was sprinkled with smoky ham bits and fluffy parmesan before being topped with celery leaves from local farm Profound Microfarms. These pasta dishes are bold and interesting, unlike so many lackluster pasta choices out there. 
In my favorite of the snacks section, greens from Demases Farms are bathed in a raw goat's milk vinaigrette before being topped with crunchy, light-as-air parmesan meringues and dense preserved egg yolks. It's a demented twist on a classic French Salade Lyonnaise (sans lardons, but it doesn't need them). A pig trotter torchon was a melody of textures, with a crunchy exterior and smooth interior, accented by almost jelly-like braised cabbage.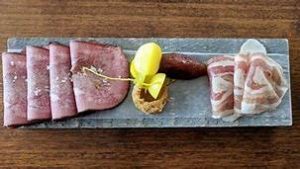 Desserts could be throwaways on a menu like this, but happily they live up to the quality of the other dishes. A dense dark chocolate tart was accompanied by a brown butter brittle that I will spend way too much time trying to recreate. A crumbled carrot cake arrived topped not only with a cream cheese mouse but also carrot puree, carrot tops, and spicy pickled carrots. It was the most exciting version of carrot cake I've ever had. 
Petra and the Beast was recently named a James Beard semi-finalist for Best New Restaurant, and I know that has something to do with the uptick in the crowd on a Thursday night. So, the secret's out, obviously, but it is a secret that should be shared. It's too good to keep to one's self. 
Petra and the Beast
601 N. Haskell
318-935-0906
petraandthebeast.com
Wednesday-Friday, Sunday noon – 9:30 p.m. (counter service)
Saturday 7 p.m. (tasting menu, by reservation only)