By Sara Newberry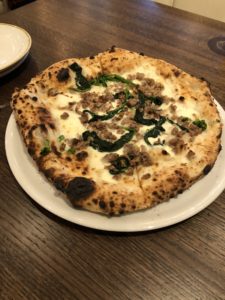 Pizza started out as what we call focaccia, or flatbread, in ancient Rome. What we consider pizza was first created in Naples, in the south of Italy, when tomatoes started to be incorporated as a topping. (Tomatoes were introduced to Europe in the 16th century, after Spanish explorers brought them back from their voyages to Mexico.) This is why so many pizza places call their pizzas pizza Napoletana or Neapolitan-style pizza. Pizza Napoletana is characterized by thin crust (usually made from flour, water, yeast and salt, then given fermentation time), a light hand with toppings, and a short cook time (usually around 90 seconds) at a very high temperature (sometimes as hot as 1,000F). This results in a crust with a soft, fluffy texture inside and a crisp, almost charred exterior. Slices droop when they're removed from the plate, rather than staying horizontal like most American pizzas. 
Fireside Pies, Olivella's, Cane Rosso, Spin! and Pizzeria Testa all focus on this style of pizza. Pizzeria Testa, open in Frisco since 2013, became the newest of these to our area when the Greenville location opened its doors this summer. 
The atmosphere is upscale, with an elegant dining room anchored by an open kitchen. The two 7,000-pound pizza ovens are covered in hammered metal, rendering them with an appearance more like pieces of art than cooking implements. The pizzas that come out of them are, in some ways, also pieces of art. The high temperatures create beautiful bubbles and patterns of char on the crusts; no two pizzas are exactly the same. Toppings are scattered almost chaotically, rather than carefully arranged, which is visually appealing, and also means that no two slices, even from the same pizza, are the same. 
A polpette, or meatball, pizza is one of the classic "red" pizzas, meaning they have tomato sauce on them. The sauce is very light, but flavorful, more of an accent to the other toppings than a featured flavor. Its mild acidity emphasizes the sweetness of the fior di latte and ricotta cheeses and the spices in the meatballs. Meatball pizza is my pizza of choice — it's less intense than sausage, but more interesting than prosciutto. Pizzeria Testa does it well. 
I also enjoyed the broccoli rapini and salsiccia pizza, which is reminiscent of the classic Italian dish. The bitter rapini makes the sausage's sweetness shine and also brings out the richness of the cheese. This one is a white pizza, which I was grateful for; more flavors would just begin to compete instead of complement.
Other than pizza, the menu offers a selection of pastas, antipasti and salads, as well as desserts. A bresaola salad combines the salty cured beef with peppery arugula and a tart lemon vinaigrette. Parmigiano-Reggiano adds balance, but overall it's an intense dish. This version is traditional, but I would have enjoyed a slice of bread or some dried fig pieces to give my mouth a break.
Our server raved about a dessert that features Nutella, the Italian chocolate-hazelnut spread. I was tempted, but I don't really love Nutella — it's too sweet for me — so I went with the cannoli instead. They were lovely, with sweet, smooth ricotta filling studded with chocolate chips, and a crisp shell that shattered perfectly when I bit into it.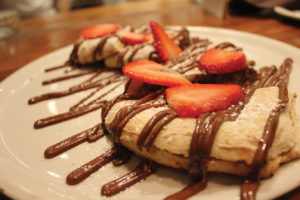 Service is friendly and attentive, but not intrusive or overbearing. Our server seemed genuinely enthusiastic about the food she was serving but didn't seem to be "selling" us. 
Pizzeria Testa is sure to become a destination for a crowd that wants to have pizza, but also wants to feel like they're going to a somewhat fancy spot. I look forward to including it in my rotation of pizza options. 
Pizzeria Testa
3525 Greenville Avenue
469-620-2266
pizzeriatesta.com
Open 7 days 
11 a.m. to 10 p.m.