By Shari Goldstein Stern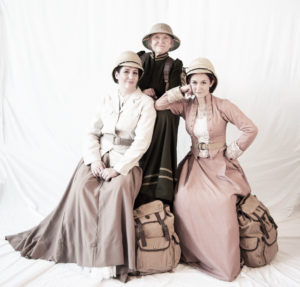 Since 1997, Wingspan Theatre Company has been bringing theater to the community with an emphasis on plays written by and about women. Founded by Dallas actor/writer/director Susan Sargeant, "WingSpan is also dedicated to nurturing new work and supporting the development of local playwrights," according to the theatre's mission statement.
WingSpan will wrap up its 21st season with Eric Overmyer's "On the Verge, or The Geography of Yearning" Oct. 4-20 at The Bath House Cultural Center. According to Sargeant, who directed the play, "[The writer] is one of the most imaginative and inventive playwrights of the 20th Century. He takes us on a mirthful journey through space, time, history, geography, feminism and fashion."
The cast features Marisa Diotalevi as Mary, Jennifer Kuenzer as Fanny and Barrett Nash as Alexandra. Jeff Burleson also appears.
Nash says the script is well written and well thought out. She adds, "I always appreciate any opportunity to work with Susan." Nash is an East Dallas native who graduated from Bishop Lynch High School. She holds a BFA in Theatre from The University of Texas in Austin. She is one of the founding members of Upstart Productions, where she performed in "The Violet Hour" and "This is Our Youth."  
Her draw to the play was the challenge it presents to actors. "It is heavy-hitting with all the major obstacles an actor can face — difficult text, intimate relationships, a full emotional journey, comedic timing, tons of props, time travel — all of it," she says. "I always love an opportunity to work with Susan [Sargeant]."
"It is the story of three women who begin a trek in 1888 and find themselves in the year 1955. Along the way their experiences, encounters and discoveries change their relationships with each other, their views on the world and the trajectory of their individual journeys," she says.
Nash adds: "The women are strongly based on three historical figures, women who were known for their explorations. It is about strong women breaking boundaries and finding their own way. But it's also about so much more than that and I think, because of this, it will wind up being about something different for every member of the audience and I think Overmeyer, the playwright, meant for it to be that way."
This is the actor's first time to work with her co-stars. "My fellow travelers are both exceptional actors and make the work on stage so easy for me. Jeff Burleson plays eight different characters and is hilarious," she says.
Like many other actors who have worked with Sargeant as a director, Nash says: "Susan is the glue and she has been my champion and mentor for many years. This is my seventh project with her and I never regret the decision to work for and with her when she asks. She is tough and focused and brilliant. She demands the best from me and I expect nothing less from her."
The actor continues, "Our stage manager, Bobby Selah, and I often joke saying, 'when the call comes, you answer … and you don't say no.'" 
Nash earned a Dallas/Fort Worth Critics Forum Award for her 2016 Festival of Independent Theatres (FIT) award for her performance in WingSpan's production of "Play" by Samuel Beckett. She also appeared in the 2010 FIT production of "Feeding the Moonfish."
The busy actor was named on Dallas Observer's "Best of 2011" theatre list for her "breakout comedy turn" in "Five Women Wearing the Same Dress" at Contemporary Theatre of Dallas and a Dallas/Fort Worth Critics Forum Award for her performance in "My Name is Rachel Corrie/Rite of Passage" at Second Thought in 2012. 
Dallas audiences raved about her performance in "Catholic School Girls" and other favorites at Contemporary Theatre of Dallas. 
She has performed staged readings for WingSpan including "The Comparables" by Laura Schellhardt and "Fly Babies" by Rusty Harding.  
About Nash, Sargeant says: "Barrett is a well-trained and well-versed actor who continues to harvest and grow her craft. [She] can take on a kooky comedy, a musical, or dive to the depths in a drama."
"On the Verge, or The Geography of Yearning" will run Oct. 4 – 20 at The Bath House Cultural Center, 521 East Lawther Dr., Dallas, 75218. For information and reservations, call 214-675-6573 or visit wingspan@wingspantheatre.com.