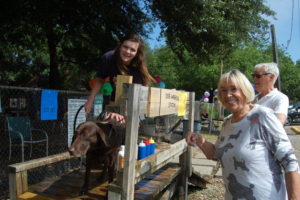 By Shelia Huffman
It's that time, again! Central Community Dog Park "Spring Festival" is on Saturday, June 1 from 11 a.m. to 1 p.m. 
The event is nothing short of a dog-gone hoot with a bake sale, pooch pampering and more. Your dog will have the opportunity to run around the one-acre fenced park doing what dogs do to have a good time while you visit with other dog-loving owners. 
You can even order your very own 2019 "Spring Fever" Dog Park T-Shirt online by visiting centraldogpark.com. 
The dog park is located at 4711 Westside Drive. Established more than a decade ago, it has continued to grow in popularity with the neighborhood and the community. 
Come join the fun. It's free and all are welcome!