THE DREYFUSS CLUB
By Jennifer Hoesterey
The Dreyfuss Club, on the east side of White Rock Lake, burned down in 2006 and left a hole in the City of Dallas Park reservations system and the hearts of neighbors. The AIA Dallas Emerging Leaders Program (ELP), the Dallas Park and Recreation Department and White Rock Lake Conservancy are working together to see that its replacement is designed with the park and its history in mind.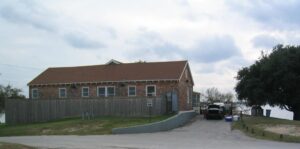 The Dreyfuss Club was built in 1936, at a cost of $6,000, as a private clubhouse for the employees of the late Sol Dreyfuss, a prominent downtown Dallas clothing retailer. Following World War II, ownership of the building was transferred to the City of Dallas, which rented it out for parties, weddings and other functions. Early on the morning of Monday, October 23, 2006, Dallas firefighters arrived to find the 70-year-old Dreyfuss Club engulfed in flames. Sadly, they were unable to save it. Nothing stands where the building once was, but the site is still a popular spot for picnics with surrounding views of the lake. 
The White Rock Lake Conservancy, a 501c3, has been in discussions with the Park Dept. about the Dreyfuss Club rebuild for years. When ELP approached the White Rock Lake Conservancy with the desire to design a building replacement that is in keeping with the history of the original building but with modern amenities inside it seemed like the perfect partnership. 
ELP: "identifies, cultivates and mentors young leaders in three areas of leadership: the firm, the profession and our community. It is the intent of the program for each participant to use the skills obtained to not only enhance their own career, but to impact the success and culture of their firms and the Dallas architectural community." 
As part of the ELP program, the 2022 project — the Dreyfuss Club — serves as a vital component of the program allowing these young leaders to apply classroom knowledge to the benefit of our community.
 The Dreyfuss Club building will be a rentable space controlled and maintained by the Dallas Park Department. If you have interest in the project, there will be a community meeting to give and receive input. Join in the discussion at Winfrey Point on May 17 from 6-8 p.m. 
Visit whiterockdallas.org for more information.