By David Mullen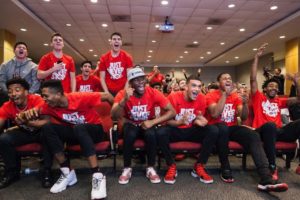 March Madness, starting this week, is unlike any other time of year. Not only do businesses kick into low, as productivity slows down measurably, but this year a political statement has come to the forefront.
This isn't about the powers of the NCAA making hundreds of millions of dollars while players providing the product are shut out from any enumerations. This has to do with the state of California leveraging a recent law toward publically-funded San Diego State University.
In 2017, California legislators decided that they will not allocate any tax money for travel to Kansas, a state targeted as discriminating toward lesbian, gay, bisexual and transgender people. Of the eight cities hosting first and second round NCAA tournament games, the 11th seeded Aztecs were selected to play in a first round match against the Houston Cougars in Wichita, which is in Kansas. The NCAA could have put San Diego State in Dallas or Detroit where other 11th seeds are playing, but instead challenged the university to self-fund their tournament game.
So California will provide no state money to give one of their state university teams a trip to March Madness. But odds are the California legislature will be one of the entities participating in some March Madness bracket pool.
The American Gaming Association estimates the $10 billion will be bet on the NCAA Tournament in 2018. Only $300 million will be legally bet through Nevada sports books. That means $9.7 billion will be bet illegally, going unregulated and untaxed. Bookies and offshore websites will flourish.
According to the NCAA, its partners' websites will provide 12 live-feed platforms, including desktops and mobile devices, to watch the tournament games this year. In 2017, the services generated more than 80 million video streams and nearly 18 million hours of video consumption.
Three billion dollars alone will be bet in office pools. But that is not the only effect that March Madness has on the office. With live streaming so prevalent and bracket checking a rite of passage, Chicago-based outplacement and executive coaching firm Challenger, Gray & Christmas, Inc. estimates that 51 million people will participate in office pools. More than 70 million brackets will be entered. Employers will lose about $3.9 billion in pay for distracted employees during the first week of the tournament. And that does not count the California state legislature.
The chance of filling out a flawless NCAA Tournament bracket is 1:9.2 quintillion (one followed by 18 zeros). But people still try to do the impossible. Some will bet by nicknames. Unfortunately, two of the best nicknames — the Shockers of Wichita State and the Marshall Thundering Herd — play in the first round and one team has to lose.
If you believe in coaching legends, Jim Boeheim (Syracuse), John Calipari (Kentucky), Bill Self (Kansas), Bob Huggins (West Virginia), Tom Izzo (Michigan State), Mike Krzyzewski (Duke) and Roy Williams (North Carolina) all made the tournament. Krzyzewski is making his 34th tournament appearance and Boeheim is making his 33rd.   
And so you don't have to look it up, first round participants Iona is based in New Rochelle, N.Y., Butler is in Indianapolis, Murray State is in Murray, Ky., Marshall is in Huntington, W. Va., Bucknell is in Lewisburg, Pa., Creighton is in Omaha, Davidson is in Davidson, N.C., Wright State is in Dayton, Ohio and Lipscomb is in Nashville. Stephen F. Austin is in Nacogdoches, but you already knew that.
There are probably 20 teams that can win this tournament. There is no dominant team. As far as long shots go, I like New Mexico State and Texas Tech to make the Sweet Sixteen. Tech plays their first two games in Dallas. The Midwest Region is brutal, with Kansas, Duke and Michigan State competing in the same sectional. I think Izzo and the Spartans will prevail.
In the South Region, number one ranked Virginia has an easy road to the Final Four in San Antonio. Number one seed Xavier will fall to Gonzaga in the West region, then the Zags get beat by North Carolina who will move on to the Final Four again. Villanova should win the East Region. They don't have to travel further than 300 miles for any of their games. If Cal State Fullerton shocked the world and made it to the Sweet Sixteen, they would have to travel nearly 3,000 miles to play in Boston.
I see Michigan State beating Villanova and Virginia beating North Carolina in what should be a highly entertaining Final Four.
The third seeded Michigan State Spartans will win their third NCAA National Championship with an upset victory over Virginia in the Alamo City. And if I am wrong, just lump me in with the other 9.2 quintillion.