By David Mullen
After two last-place finishes and a fourth-place finish in the last three seasons, Texas Rangers' billionaire owner Ray Davis had seen enough. It's as if Davis found the ancient reference attributed to Plautus — "You have to spend money to make money" — and applied it to his baseball team. 
In the last two seasons, the Rangers have signed 2B Marcus Semien, SS Cory Seager and pitchers Jacob deGrom, Nathan Eovaldi and Andrew Heaney, resigned P Martin Perez and acquired Jake Odorizzi via trade. The Rangers 2023 payroll is an estimated $200 million.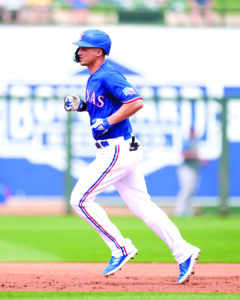 But the Rangers' biggest offseason acquisition may be attributed to another famous quote, "An investment in knowledge pays the best interest." Benjamin Franklin wasn't thinking about the Rangers investing in veteran manager Bruce Bochy, but the move should pay dividends for Texas.  
With a flurry of new rules returning strategy to baseball, Bochy is the ideal manager. He brings the right balance of decision-making, discipline and demeanor and should make a winner out of a team loaded with talent. With a lineup including Semien, Seager, Nathanial Lowe, Adolis Garcia and "can't miss" Josh Jung added to an impressive starting rotation, Rangers baseball is relevant again. 
As in seasons past, the AL West crown goes through Houston. The Astros won the World Series while introducing young players to the world. They lost Cy Young Award-winner Justin Verlander but added former MVP José Abreu to a stout lineup. The Astros will be without Jose Altuve to start the season due to a broken thumb, so a slow start could give other division teams, like the Rangers, reason for optimism.
The Los Angeles Angels remain an enigma. How can a team with Mike Trout and Shohei Ohtani wallow around .500 every year? This season, adding pitcher Tyler Anderson, veterans Hunter Renfroe, Gio Urshela, Brandon Drury and a healthy Anthony Rendon to the batting order improves their chances of a Wild Card berth. 
The Seattle Mariners, baseball's 2022 darlings, are set up for a fall. So many things went right for them last year. Timely hitting overcame inconsistent hitting as they were near the bottom of the league in batting average and still managed 90 wins. They feature Rookie of the Year Julio Rodriguez, an upgraded offense with OF Teoscar Hernández and a better defense with 2B Kolten Wong. Seattle will contend. 
Once formidable, owner John Fisher has turned his back on the Oakland Athletics. A billionaire member of the GAP family, Fisher is never seen in public, likes to cry to owners about being a small market team and refuses to invest in a desperately needed new ballpark in Oakland. After trading C Sean Murphy to Atlanta, the once proud A's have been reduced to a team as putrid as the smell of stale beer at the 58-year-old Oakland Coliseum.  
Last season, the AL East was the most watched division in baseball. Four of the five teams played better than .510 baseball, and three made the playoffs.
Despite one World Series win since 2000, the New York Yankees draw the lion's share of media attention. The Yankees are the Dallas Cowboys or Los Angeles Lakers of baseball when it comes to relevant irrelevance. Yankees fans are vocal (nice way of saying obnoxious), and sports outlets feel obligated to chronicle the "Plight of the Discords."
Last year, the 99-win Yankees did have a major storyline. OF Aaron Judge fell short of a Triple Crown with an AL record 62 home runs and a league-leading 131 RBIs. He finished second in batting average to Minnesota's Luis Arraez. Judge was rewarded with a nine-year, $360 million contract in the offseason. Arraez was rewarded by being traded to the NL East's Miami Marlins.
The Yankees lineup may be as powerful as a Ferrari 812, but also as fragile. DH Giancarlo Stanton is often injured, 3B Josh Donaldson is 37, and LF Aaron Hicks needs a tune-up. The Yanks added starter Carlos Rodón to a staff led by Gerrit Cole and are the team to beat in the East, but many teams are in hot pursuit.
Now a year older, the Toronto Blue Jays' core has lacked maturity. They were a 92-win squad in 2022 but showed the wisdom of a beer league softball team. Their lineup featuring George Springer, Bo Bichette, Vladimir Guerrero Jr., Alejandro Kirk, Daulton Varsho and Matt Chapman is outstanding. They hope veterans Brandon Belt and Kevin Kiermaier can bring stability. There is a lot to like about Canada's team.
The Baltimore Orioles went from 52-110 in 2021 to 83-79 in 2022. The unprecedented turnaround gives O's fans hope for the first time in years. With the Washington Nationals in disarray, Baltimore is the toast of Chesapeake Bay. CF Cedric Mullins, C Adley Rutschman and 3B Gunnar Henderson anchor a team ready to set sail. 
The eternally optimistic Tampa Bay Rays, facing the same stadium issues as Oakland, may be in for a run of negativity. They added very little in the offseason and lost some players that — like the team — were overachievers. Kiermaier, Mike Zunino and Ji-Man Choi are gone. They still have SS Wander Franco and OF Randy Arozarena, but the Rays seem to have lost their sting.
Fans are crying in their clam chowder in Boston. How can a team with so much fan loyalty and so much of their fan's money let great players leave every year? Adding old stars like Justin Turner, Corey Kluber and Kenley Jansen and losing Xander Bogaerts, J.D. Martinez and Eovaldi does not right the ship. 
AL Central fans are a patient bunch. A division title could come to a team with 90 wins or less. In the offseason, the defending division champion Cleveland Guardians, Chicago White Sox and Minnesota Twins stayed the same or got worse. The Kansas City Royals and Detroit Tigers are consistently rebuilding. What the teams lack in star power, they make up for in mediocrity.
The Guardians don't get many extra base hits, the Twins are banking that SS Carlos Correa's left leg can keep him on his feet for six more years, and the White Sox are in turmoil. The Royals are building around the division's one potential superstar, son of former Rangers' pitcher SS Bobby Witt Jr. The Tigers' future is as bleak as the Detroit economy.
With the wisdom of Bochy and the wallet of Davis, the Rangers are a playoff team depending on the health of deGrom. The Blue Jays and Yankees will represent the East, the Astros will win the West, and the Guardians will win the Central. The Rangers and Angels are playoff teams. I like Toronto to win the AL, but the Rangers have paved their way — and paid their way — back to relevance.