By David Mullen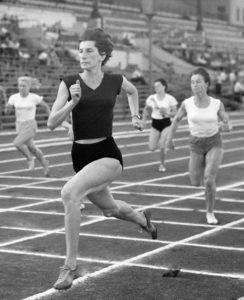 In what has become a year-end tradition, we look back at those sports personalities who died in 2018. I apologize if I missed one of your favorites, but space is too limited to include everyone. They will all be missed.
Paul Allen, 65. Best known as co-founder of Microsoft, he took his billions of dollars and became owner of the Seattle Seahawks, the Portland Trail Blazers and co-owner of the Seattle Sounders. He died from non-Hodgkins lymphoma.  
Sir Roger Bannister, 88. Arguably the most famous miler of all time, Bannister was the first person to ever run a mile in under four minutes.
Tom Benson, 90. The man that danced on the sidelines with an umbrella inside of the Superdome, Benson bought the New Orleans Saints in 1985 and lived to see the team's only Super Bowl title. He also owned the NBA's New Orleans Pelicans. 
Billy Cannon, 80. A Heisman Trophy winner at LSU, he went from running back to tight end and starred in the American Football League with the Houston Oilers, Oakland Raiders and Kansas City Chiefs.
Jose Castillo, 37, Luis Valbuena, 33. Castillo, a former Pittsburgh Pirates infielder and Valbuena, an 11-year major league veteran, died on Dec. 6 in an automobile accident in Venezuela. 
Dwight Clark, 61. On Jan. 10, 1982, the San Francisco 49ers wide receiver made "The Catch" that Dallas Cowboys fans will never forget. 
Anne Donovan, 56. The Basketball Hall of Famer won a national championship at Old Dominion and three Olympic gold medals as a player and a coach. 
Keith Fahnhorst, 66. The huge offensive tackle was a two-time Super Bowl champion. He played his entire career as a 49er.
Tito Francona, 84. Father of Cleveland Indians manager Terry Francona, he was known as a pesky hitter who played for nine different teams.
Oscar Gamble, 68. Famous for his huge Afro hairstyle, he played outfield and designated hitter for 17 seasons in the major leagues.
Augie Garrido, 79. Head coach of Texas Longhorns baseball from 1997-2016.
Mari Hulman George, 83. As a board member at Indianapolis Motor Speedway, she was noted for saying "Gentlemen [and later ladies], start your engines."
Hubert Green, 71. The popular two-time major winner and World Golf Hall of Famer passed away from throat cancer.
 Hal Greer, 81. He retired as the Philadelphia 76ers' all-time leading scorer and a 10-time NBA All-Star. He was inducted into the Basketball Hall of Fame.
Dan Gurney, 86. One of the top auto racers of all time, he won races in Formula One, Indy car, NASCAR, Can-Am and Trans-Am.
Doug Harvey, 87. He was a Baseball Hall of Fame umpire who worked in the big leagues for 30 years, amassing 4,673 games.
Wes Hopkins, 57. He was one of the great safeties in NFL and Philadelphia Eagles history.
H. Wayne Huizenga, 80. A South Florida legend while building Blockbuster and AutoNation, he was the owner of the NFL's Miami Dolphins, baseball's Florida (later Miami) Marlins and owned the NHL's Florida Panthers. 
Keith Jackson, 89. The oft-imitated broadcaster, Jackson spent 56 years calling college football, including 15 Rose Bowls on ABC. His final game was the 2006 classic between USC and the Longhorns.
Bruce Kison, 68. A reliable starter, Kison pitched in two World Series for the Pirates in the 1970s.
Chuck Knox, 86. A great motivator, Knox won 186 games as the head coach of the Los Angeles Rams, Buffalo Bills and the Seahawks.
Bruce Lietzke, 67. Brain cancer took the well-liked golfer, who won 13 PGA Tour events.
Willie McCovey, 80. Nicknamed "Stretch," the Hall of Fame left-handed power hitter is one of only four players in major league history (with Ted Williams, Rickey Henderson and Omar Vizquel) to hit a home run in the major leagues in four decades.   
Robert McNair, 81. An entrepreneur, he founded the NFL's Houston Texans.
Stan Mikita, 78. Legendary Chicago Blackhawks center and captain, he is the team's career leader for assists (926), points (1,467) and games (1,394) and second only to Bobby Hull with goals (541).
Wally Moon, 87. He was a two-time National League All-star outfielder.
Willie Naulls, 84. Noted as the first African-American captain for an integrated professional sports team, he played with the New York Knicks and Boston Celtics.
Dave Nelson, 73. He was an All-Star infielder for the Texas Rangers who also coached at TCU.
David Pearson, 83. One of the finest NASCAR drivers in history, he had 105 career victories.  
Isiah Robertson, 69. He was a six-time Pro Bowl linebacker with the Rams.
Tim Rossovich, 72. A consensus All-America defensive end at Southern California, he had an NFL career that led to acting in Hollywood.
Red Schoendienst, 95. A Hall of Fame second baseman, he managed the St. Louis Cardinals to two pennants and a World Series championship.
Alex Spanos, 95. He was former owner of the San Diego Chargers. 
Tony Sparano, 56. He was head coach of the Dolphins, interim head coach of the Raiders and was the tight end coach of the Cowboys from 2003-04.
Rusty Staub, 73. Dubbed "Le Grand Orange" when he played with the Montreal Expos, he is the only player in major league history to have 500 hits for four teams (Houston Colt 45s/Astros, Expos, New York Mets and Detroit Tigers). 
He played for the Rangers in 1980.   
Irena Szewinska, 72. The Polish sprinter won seven Olympic medals.
Jim Taylor, 83. The Green Bay Packers fullback was the first Packer of the Vince Lombardi era to get into the Pro Football Hall of Fame.
Kevin Towers, 56. He was a well-respected general manager of the San Diego Padres and Arizona Diamondbacks.
Joseph "Jo Jo" White, 71. A prolific guard, the Celtics legend is in the Basketball Hall of Fame.
Fred "Tex" Winter, 96. NBA Hall of Famer and a Chicago Bulls and Los Angeles Lakers assistant coach, he is credited with developing the triangle offense.
John Ziegler Jr., 84. Former NHL president oversaw the merger with the World Hockey Association.