By Sujata Dand
Lakewood resident Courtney Mathews sets a giant three ring binder on her dining room table. 
"This is the binder of Jackson," Mathews explains.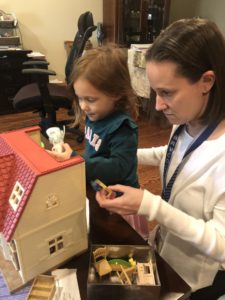 Jackson is Mathew's 13-year-old son. He's currently a student at the Travis Vanguard School for the Academically Gifted.
"He's twice exceptional," Mathews says with a smile. "He has special needs and he's identified as talented and gifted."
Jackson has intermittently received free speech therapy and other special accommodations since he was in kindergarten.
Mathews flips through the carefully compiled pages of Jackson's medical and school evaluations.
"I went through all the files from all the people who have ever been involved and just put them in one place," Mathews explains. "He's been in therapy since he was four. So now, if anyone asks me anything, I can refer to the binder."
Mathews anxiously runs her fingers through her short brown hair. The binder is more than an anthology of Jackson's medical history, it's also a record of Mathew's fight to get services for her son. 
Even though federal law dictates that public schools must provide accommodations for students with disabilities, experts says school districts like Dallas with a high percentage of children living in poverty have disproportionately low numbers of children who have been diagnosed with special needs.
Mathews gave up working full time as a special education teacher to focus on Jackson's education. She and her husband also have a three-year-old daughter.
"I'm in a place where I can be in meetings at the school, and make phone calls, and press and move up the chain," Mathews says. "I'm treated differently than a lot of parents in the district."
Mathews wanted to change the culture of special education in Dallas. She took her concerns to her Dallas school board trustee Dustin Marshall. 
"I think most trustees including myself have only a high-level understanding of the issues and challenges confronted by families with a special-ed kid, and I felt frankly like I wasn't informed well enough to be a high-quality advocate," Marshall explains.
He decided to organize a committee made up of parents of children with special needs. The response was overwhelming. Marshall said more than 70 people expressed interest. Mathews served as co-chair, and throughout the course of a year, she created another giant binder — this one filled with recommendations for Dallas ISD administrators.
"They had hundreds of recommendations," Marshall says. "They produced a binder with everything from some policy recommendations all the way down to getting really into the nitty-gritty about redesigning the forms that families were filling out and writing new job descriptions for some positions."
District administrators were responsive. To improve access to special education, they agreed to create a special education coordinator position at 10 schools. If this pilot program is successful, Dallas Superintendent Michael Hinojosa promised Marshall to make the position permanent on every DISD campus.  
"I'm excited," said Michelle Brown. She is the new executive director for special education for Dallas ISD. "I'm hoping that we have positive outcomes from this approach. We want to do what's best for our students, and we definitely want to ensure that our special education teachers are spending the majority of their times actually servicing the students in the classroom setting."
However, administrators weren't so supportive of Marshall's request to install cameras in all 473 special education classrooms. 
This was another recommendation from Mathew's committee. Right now, only a few dozen special education classrooms have cameras. Texas law says a camera must be installed if a parent makes a request. 
"I think you know that's what prompts most parents to ask is when something has already happened and by then, it's too late," Marshall says. He took the issue up with the school board. "In many cases these are the most vulnerable kids and they're often nonverbal. It's a small price to pay to be proactive in the situation." 
In a recent board briefing, Superintendent Hinojosa said installing cameras in all special education classrooms was too expensive. Currently, the district pays between five to seven thousand dollar per camera installation. 
"Yeah, I'm not confident that it would cost that much," Marshall says. "If we're bidding out, you know 480 classrooms at once instead of one classroom, then presumably the per-unit cost of the camera and the installation services and the monitoring services would be quite a bit lower. I Googled on my phone what it costs to purchase a digital camera and found one on Amazon for $29.99."
Mathews says cost shouldn't be a factor when it comes to the safety of students and staff. She was hurt several times when she worked in a classroom with emotionally disturbed students in another district. 
"I've had to go get X-Rays because of chairs that were thrown," Mathews recalls. "If there is video, that helps keep everyone safe and helps create a treatment plan for the child."
While the board is still considering what to do about the cameras, Mathews says she's proud of what the committee has accomplished by giving a voice to the most vulnerable.