By Shari Goldstein Stern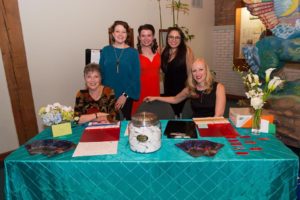 Janelle Lutz is the featured entertainer at Second Thought Theatre's (STT) fifth annual State of Mind. She will perform a cabaret of vocals from musical theater, Disney and a variety of well-known tunes. The evening gives the theater an opportunity to thank its generous and dedicated supporters before kicking off the new season of compelling theatre.
It offers a state-of-the-union type of progress report and announces new initiatives and plans. It is STT's enjoyable, entertaining evening that celebrates its sponsors and patrons each year.
STT invites those who enjoy its work and wish to see more of it produced. According to Alex Organ, STT artistic director: "Next year's plays are largely personal stories of loss, trauma and resilience in the face of unimaginable circumstances. STT continues to seek out stories that detail how we as humans navigate a rapidly changing world."
Lutz is a respected talent in Dallas' theater community. She's been seen at venues including Brick Road, Firehouse and WaterTower Theatres to name a few. At Uptown Players, she's accomplished the formidable task of recreating Judy Garland in performances, which were spot-on in "End of the Rainbow" and "The Boy from Oz."
She killed as Nellie Forbush in Lyric Stage's "South Pacific" and was authentic as Doris Walker in Dallas Children's Theatre's "Miracle on 44th Street." At Brick Road Theatre she was Amy in the ensemble cast of "Company"
The talented triple-threat is also an accomplished voice-over talent. Lutz said, "I'm so glad to be invited to perform at State-of-Mind and to offer my support." Although she has not yet performed at STT, she looks forward to that opportunity.
"We are thrilled to have Lutz, a Dallas musical theater favorite, joining us for the festivities," added co-chair Jim Nugent. "Janelle is a phenomenally talented performer. Her performance will be a perfect complement to this celebration in support of STT's own storytelling.
According to Organ (pictured above): "Janelle is a singular talent in our community. Her musical ability is staggering, but she couples those skills with legit acting chops, making her a go-to for deeply complex, flawed characters on local stages. Her unique ability to illuminate a character's inner-life through musical interpretation makes her invaluable to the community. We are lucky and thrilled that she agreed to share her gifts with our group of supporters."
"Each year, with the generous support of our patrons and subscribers, State of Mind raises a significant portion of the funds necessary to create the innovative and stimulating theatre with which STT has become synonymous, and we are so grateful for the growth this has afforded us." Wade Owens, STT's State of Mind 2018 event co-chair, said.
State of Mind will begin with cocktails and festive fare at 7 p.m., followed by Lutz, accompanied by accomplished pianist Adam C. Wright. Rob McCollum will emcee and Dallas-based director and choreographer Joel Ferrell, whose STT's directorial credits include "The Necessities," "Othello" and "Gruesome Playground Injuries," will be the featured guest. The event will also include a Fund the Mission auction, the proceeds of which will provide financial support for STT's 2019 season. Cocktails and mingling with STT artists and supporters will finish the evening.
According to Organ, STT recently released the details of its 2019 season, which includes four area premieres and the third world premiere in as many years by local playwright Blake Hackler. "As we look to 2019, our focus shifts toward more personal stories of resilience and self-discovery," Organ said. "We look forward to continuing our tradition of community engagement through post-show discussions after nearly every performance."
State of Mind is at the Sammons Center for the Arts, 3630 Harry Hines Blvd. in Dallas. For additional information, visit secondthoughttheatre.com.