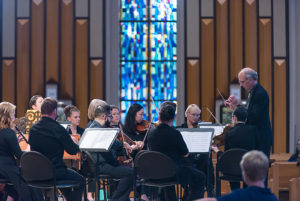 By Christine Finnegan
The Orchestra of New Spain (ONS) will present the Mozart "Solemn Vespers" and Courcelle's Italian Mass March 30 at Zion Lutheran Church, 6121 East Lovers Lane, Dallas, 75214. Tickets are $25 and $10 (with student ID) available through ticketdfw.com or by calling 214-871-5000.
"Solemn Vespers" is a hallowed choral composition written by Wolfgang Amadeus Mozart in 1780. The setting was composed for liturgical use, the title suggesting that the work was intended for vespers, the sunset evening prayer service in Orthodox Roman Catholic, Eastern Catholic, Anglican and Lutheran liturgies. "Solemn Vespers" is an expressive liturgical piece that in spite of restrictions by Archbishop Colloredo, manages to include subtle references to opera and counterpoint in its structure of six movements, from exuberance to tranquility to a Magnificat finale.
The Italian Mass is one of 33 mass settings by Francisco Courcelle, who was a prolific composer of some 250 sacred pieces. He lived from 1705-1778, bridging baroque and classical eras with ingenuity. While his Italian years are little documented, we do know that this mass was written in 1731, the year in which his first opera was produced in Venice.
"Mozart 'Solemn Vespers' is remarkable for many reasons, but it is especially notable because the rules for acceptable church music were inhibiting to 18th century composers," said ONS artistic director Grover Wilkins. "Mozart was able to adhere to the church's doctrines with the "Solemn Vespers" and also compose a piece that has stood the test of time. He created a work with operatic pretentions that was appropriate for a liturgical venue while including his own artistic voice."