By Judy Babb
Spot stood next to Susie Beetem, his soft nose checking out her pockets for hidden treats. He also seeks cookies from others within his reach. They jokingly call him a pocket horse because of his audacity in hunting for tender morsels.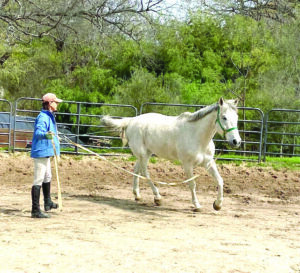 His big brown eyes reflect White Rock Stable's grassy pastures and the 24-stall barn as well as a corral for training both riders and horses. He gazes eagerly at the green grass he wants to crop and savor. 
Spot's owner, a third-grade teacher in Dallas ISD, Beetem curries the large brown horse and shows the white spot on his side that gave him his name. In addition to boarding Spot there, Beetem is one of the main volunteers at the stable, spending upwards of 10 hours weekly at the top of the hill above White Rock Lake. Not many passersby on nearby Northwest Highway know the stable is there. 
Beetem had planned to compete in three-day events when she was younger. Her goal was to compete in cross country, jumping and dressage. That wasn't to be.
"I was thrown from a horse while going over a jump," she said. "That prevented me from competing."
It did not, however, curb her passion for horses. She has owned Spot for 20 years.
"It's expensive," she said as she stroked the horse, "but it's worth it."
The 20-plus owners who keep their horses there share her enthusiasm for equines.
The 12.5-acre plot that is White Rock Stables (WRS) isn't just a place to board a horse. Texas M. Oddson, Sr., brought the stables into existence during the Depression era. Today, WRS is still family owned and operated but is no longer a place where horses can be hired for riding. Rather, most owners come daily to care for their steeds and certainly tell the stable's managers if they will be out of town. That makes the stables feel like family.
Amelita Facchiano is the current family member to keep the stables going. She manages the day-to-day care of the property for free. She takes care of ordering the best alfalfa and feed for the horses. Her degree in veterinarian medicine allows her to quickly assess a problem and call for professional help if needed. She also takes care of the myriad of volunteers who help keep the stable running. While they are not paid, she shows her appreciation by taking them to the Equest Gala each June.
Facchiano's love affair with horses started early. She remembers secreting herself in her closet with volume H of the encyclopedia when she was a pre-teen. Her direction wasn't a straight line. Not even close. She sought a career in dancing.
"My eating disorder shortened a hopeful ballet career. And it almost took my classically trained voice," Facchiano's bio on the White Rock Stables website says. "Then, the amazing gift of a horse awakened hope, healing and passionate purpose."
She wasn't happy to depend on her then-knowledge of horses and instead went back to school, first at Texas A&M, then Iowa and finally at Colorado State. 
She calls it her "God moment" when a friend asked her to go riding and she met Bandit's LadyBug. Within six months, LadyBug would be hers and would help her through her own challenges. It's not hard to explain why therapy is part of what goes on at the stables. She's had the horse more than 25 years.
Facchiano's day job connects her to horses as well. For better than 25 years, she has managed the practice and diagnostic laboratory for Lone Star Park Equine Hospital. She also has a list of equine associations and organizations she has headed. She became especially interested in horse ID after the horses and tack were stolen from the stables in 1990. By luck, LadyBug was not taken. 
Julie Wilson, trainer and co-manager at the stable, teaches both horses and riders. She began riding at six. She began teaching when she was a teenager. 
"What I teach depends on the needs of the rider and the horse," she said.
From trail riding to barrel racing to jumping and dressage to English and Western riding, Wilson knows it all.
Riders there know to expect other things.
"We go on fox hunts," Wilson said. 
"Really, just coyotes," she laughed.
One of the horses stabled there is both near famous and very lucky. 
Cindy Johnson bought Theatrical Dancer from a man who bought horses to take to Mexico to be slaughtered. The 23-year-old horse had been hurt, had had four pregnancies and was past her prime. Johnson offered the man $800, $200 more than he'd get from the slaughter house. He happily turned the horse over to her. Turns out, the horse came from a famous line of Kentucky Derby winners — Native Dancer and Northern Dancer. 
Johnson ran her hand over the horse and said what many of the horse owners feel about their time at the stable. "I call it my country club."
Some of the equines think of it as their country club as well. Starbucks, a 14-year-old paint pony, is the stable's mascot. He lives with Buddy, a retired fox hunter. Buddy also helps new riders become assimilated to riding. 
Facchiano looked over the stable area and said, "From my perspective, the health and welfare of the horses is most important."
And it shows in every aspect of the area.