This dressing is also delicious as a salad dressing for a spinach salad and pairs well with roasted salmon.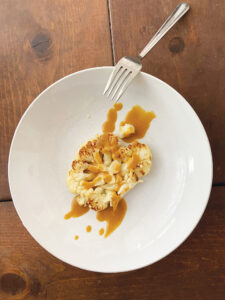 2 heads cauliflower, cut crosswise into "steaks"
4 tablespoons vegetable oil, divided
1 1/2 tablespoons rice vinegar
2 tablespoons white miso
1/2 teaspoon toasted sesame oil
1/4 cup water
Heat oven to 425F. Line a baking sheet with parchment or foil. Brush parchment or foil with 2 tablespoons oil, then lay cauliflower steaks on prepared sheet pan. Bake until lightly browned on one side, about 15 minutes. Turn and bake again until slightly brown on the second side, about 7 minutes more.
Meanwhile, whisk remaining ingredients together in a bowl until smooth. Drizzle dressing over roasted cauliflower and serve right away.