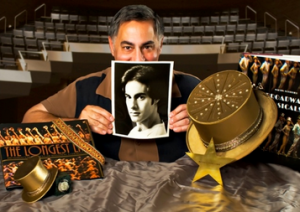 By Shari Goldstein Stern
Many Dallas area theater-goers know that if a program lists Michael Serrecchia as director, they've made a good choice. Likewise, when area performers learn that Serrecchia's directing a show, they grab their leg warmers and rush to auditions in a heartbeat. 
Now the respected director is bringing Broadway to Booker T. Washington High School for the Performing and Visual Arts (Booker T.) when he directs "A Chorus Line" (ACL) to run the weekends of Thursdays through Sundays, Thursday, Sept. 13 through Sunday, Sept. 23 at the Montgomery Arts Theatre at Booker T. Serrecchia has a reputation for bringing out the best in his cast members, so Booker T. aspiring performers are in good hands.
The story follows 17 anxious dancers in their nerve-wracking journey to make it into a new Broadway musical. They've been working for this a lifetime through hours upon hours of training, sweat and sore muscles, and now their dream is only a few cuts away.
They share their stories of how they've gotten to that moment, and why they've put themselves on the line to make this show, each knowing that of the 17 of them, only eight will make the final cut.
Michael Scott Tatum is in his fourth year as Dean of Arts Conservatories at Booker T. and had this to say about the director: "When we put the word out that we were searching for a director for ACL, everyone recommended Michael Serrecchia. We heard repeatedly, 'Michael is your best choice. You don't need to look any further.'" Tatum did the right thing in getting the best to coach and mentor Booker T.'s future thespians.
Serrecchia performed with the original Broadway cast of ACL, after workshops and off-Broadway productions, during most of the 1970s. Now he says, "I've waited almost half a century to direct this show. I have had other offers in the past, but I have never wanted to grind out the show in a 3-week rehearsal period. It was too important to me for that.
"Booker T. allowed me to take the time to do it correctly," the director added. After February 2018 casting, Serrecchia enriched the cast members' experience with a series of workshops from learning to audition to full-day intensives in May. 
They took home films and music to work on during the summer. When school started, the cast began after-school rehearsals.
"It has been cathartic for me to say the least," Serrecchia said. "My memories and emotions are right on the surface. It's a lot of emotional history built up over almost 50 years. ACL set the course for my life."
The cast has received a sense of the show's history and culture that is not generally available through a short rehearsal process. "I have learned the power of passion and perseverance from [Michael's] life story alone," said Josh Sedacca, a senior in Booker T's Theatre Conservatory who plays Greg in ACL. He commented further about his director: "His lessons are about the world and history of theatre itself, including secrets from the making of [Broadway's] 'A Chorus Line.' He has taught me, an aspiring actor and director, more about my craft and has helped me grow immensely within the past six weeks." 
Sedacca is applying to BFA acting programs for next year and looks forward to a career in the theatre.
For Broadway's "A Chorus Line" Serrecchia was honored with the New York Drama Desk Award, New York Theatre World Award, a Special Tony Award Recognition and a MAC Award for "Chita Plus Two," in which he was featured with Chita Rivera. He was named NYC Gypsy of the Year 2000. 
Locally, Serrecchia's been recognized with 20 Column Awards for choreography, directing, and production of an enormous cache of shows. He's been nominated for Rabin Awards, and regional awards have included the Dallas Critics Award, Fort Worth Critics Award, Dallas Voice, and D Magazine.
The late Jac Alder, founder and artistic director of Theatre 3, once said this about Serrecchia: 
"First of all, [Serrecchia's] working too hard. But [Serrecchia] epitomizes something that keeps Dallas' theater ecology in such good shape. It's his work ethic, talent, and generosity of spirit that he shares with other artists that exemplify the Dallas arts community. I like to call these talents 'citizen artists.'" 
Also in 2011, Serrecchia was selected for the Natalie Skelton Award for Artistic Excellence for having "invested my life to artistry, teaching, and directing at a truly outstanding level." In 2015 he, along with the rest of the original cast of "A Chorus Line," was honored at The Public Theatre in NYC for their contribution to the American Musical. 
The original ACL cast member performed in six other Broadway musicals during his 18 years in New York. He has appeared in a few feature films and played Joe Campisi (Campisi's Egyptian Lounge) in 1993's film, "True Tales."  
Serrecchia closed with: "I don't think they [the cast] realized how hard this show is. Very physically and mentally exhausting. There have been tears and shin splints."
Performances of "A Chorus Line" are at the Montgomery Arts Center at Booker T. Washington High School for the Visual and Performing Arts (Booker T.), 2501 Flora St., Dallas, 75201. 
To purchase tickets to "A Chorus Line," visit the Booker T. Eventbrite box office at https://bit.ly/2wYfonL.