By Marty Van Kleeck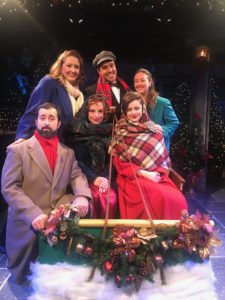 One Thirty Productions kicks off the Holiday season with a star-studded cast in the sparkling "A Christmas Survival Guide" by James Hindman, John Glaudini and Ray Roderick.
The production in cooperation with the City of Dallas and the Dallas Office of Cultural Affairs, opened on Nov. 28 at the Bath House Cultural Center. The song-filled Christmas revue is directed by Dallas favorite Doug Miller. Miller has assembled a cast of outstanding performers (pictured above) who are well-known to Metroplex audiences. Brian Hathaway returns for his third holiday show with the company. Janelle Lutz, Marianne Gallaway and Erin McGrew also return to the One Thirty stage. Newcomers to One Thirty Productions are Angel Valasco and Sarah Comley Caldwell. Production staff for "A Survival Guide to Christmas" includes Rodney Dobbs, set design; Marco Salinas, sound design; Stewart Mikkelsen light design. Costume design is by MVK&G.   
"A Survival Guide to Christmas," filled with traditional Christmas music, old favorites and some new holiday music, is designed to lessen the stress that all too often accompanies the holiday season. This warm-hearted revue is guaranteed to send you home with a spring in your step and a renewed joy in the season.
"A Survival Guide to Christmas" runs through Saturday, Dec. 15. All performances are at 1:30 p.m. at the Bath House Cultural Center, 521 E. Lawther in Dallas. Reservations are highly recommended. Call the One Thirty Productions box office for additional information and reservations. Ticket prices range from $12-$16. Group rates are also available.