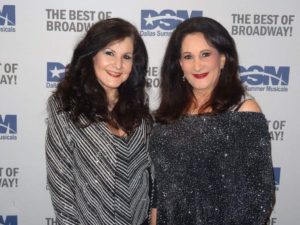 By Shari Goldstein Stern
What "The Sound of Music's" Von Trapp Family Singers did for Austria, so the Anderson family does for Dallas. The late Ray and Joan Anderson made a name for themselves and their family in the area's live theater, ingraining in their two daughters a solid performance legacy.
Sisters Linda Anderson Frank and Rita Anderson Powers-White are not only entrenched in theater, but they are also each other's best friend. At hardly two years apart in age, they can finish each other's sentences. "Wonder of wonders, miracle of miracles," they never bicker. They were hardly toddlers when Rosemary Clooney and Vera-Ellen sang "Sisters, sisters, there were never such devoted sisters" in the film "White Christmas," but you can bet your soft shoes these sisters have personified that classic song ever since.
Siblings Chick, Rex and Gena had theatrical and voice experience, but different dominant genes led them to other professions. The family lost their mom in 2013 and their dad in 2017, but the sisters continue to make them proud through their mutual passion — the theater.
Frank recently appeared in Garland Summer Musicals' (GSM) production of "My Fair Lady," and was a natural in the role of Mrs. Hopkins. This was the actor's 33rd show with GSM in her 26 seasons. A well-traveled and avid theater patron Marvin Levin of Dallas said: "I've seen 'My Fair Lady' in New York and London and have seen the film, of course many times. This was the best production of the show I've ever seen."
A few others of Frank's GSM appearances have been in "Hello, Dolly," "Funny Girl," "Mary Poppins," and "Oliver." When asked why GSM has developed such a good reputation during its 36 years, Frank replied: "GSM's shows are polished, setting them apart from other theaters of its size. The directors, musical directors and the choreographers are professionals. Most of them have been in the performance industry all their lives," she said. "Buff Shurr and Michael Serrecchia are gifted directors."
The sisters' parents appeared for many years in White Rock Kiwanis' (WRK) legendary musicals. Their shows were also polished and professional as directed by Dallas Summer Musicals' legendary Tom Hughes and Gary Surratt.
Frank's interest in theater was piqued while she sang with Bryan Adams High School's (BA) concert choir and performed with the theater department. She is a BA '71 graduate.
Then, at 25, she began appearing in WRK musicals, and the performing bug took over. With both her parents active in theater her entire life, she was destined to share the art.   
In addition to her 26 years with GSM, Frank has credits with Studio B, Lyric Stage, Rockwall Summer Musicals, Garland Civic Theatre and 13 years with WRK.
Frank's sister, Powers-White, said she could sing before she was walking. "I was cast as a 'head of lettuce' in 'Peter Rabbit' for the Dallas Children's Theatre (DCT) when I was six, and at the age of eight, I was in "La Boheme" with my sister Linda for the Dallas Civic Opera (DCO). We shared the stage with our mother, who sang with DCO for 13 years," she said.
"We also performed with our mom at the Starlight Band Shell Concert series at Fair Park, in which I was the only female vocalist with the big band orchestra," the triple-threat added. At 14, she started singing professionally with bands and did her first WRK show as a dancer with her parents playing the leads in "The Music Man."
"I studied ballet at the Cranford House for Dancers in Casa Linda," Powers-White said. "When we wanted to pursue tap and jazz in addition to ballet, we went to Gingham Girl in Northlake Center. The studio gave us opportunities to perform for audiences such as at nursing homes, the Seagoville Prison and the Terrell Psychiatric Hospital. I worked on and appeared in many WRK shows which had a huge influence on me."
Powers-White said: "I was in practically every play, musical and talent show that was ever performed while I was at Hexter Elementary, Hill Jr. High and BA." The performer, a BA '69 alumna, was in the prestigious Harlequin Players, a summer stock troupe at St. Mark's School, for which she played the lead in the musical. She did shows outside of school, like the Gridiron (Press Club) show and sang with professional bands in night clubs. While still in high school, she was chosen to be "Texas Rose" with the Light Crust Dough Boys, touring Texas with a gubernatorial candidate. She earned degrees including a master's in drama and dance from the University of Texas at Dallas, Richland College and the University of North Texas (UNT). She did post master's studies in Education at UNT. She is a professor of education and is university supervisor for theatre student teachers at Texas Woman's University. She was previously head of Marcus High School's theater department, where she taught every element of theater art for 19 years while directing hundreds of musicals and plays.
Steven Beene has been performing with Linda (Anderson) Frank since they were teenagers, and they are both in rehearsal for "Kiss me Kate," GSM's final show of the season. He performed with the rest of her family in "The Music Man." He said: "Linda is a performer who understands performers need to count on each other on and off the stage. She does serious scenes with the same finesse as comedy and can still be a triple threat on stage."
Both sisters said their most cherished memory is sharing the stage with their mom playing Marian the Librarian opposite their dad as Harold Hill in the WRK production of "The Music Man."