By Chic DiCiccio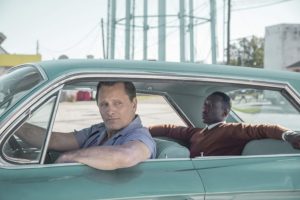 There are some movies that make you feel all warm and fuzzy while you're sitting in the theater. You laugh, cry, wince, essentially run the gamut of emotional responses. But then, maybe while you drive home, you think about what you've seen and how nearly every second of it was a calculated attack on each of those emotions and then it hits you: you've been manipulated.
"Green Book" is that movie. This "dramady" is a guaranteed crowd-pleaser, but it's the very definition of Oscar bait. When in the hands of director Peter Farrelly (yes, he of "Dumb and Dumber" fame), this tale of early 1960s race relations never challenges the viewer and there is only one moment of conflict that should spark actual thought, which is quickly ignored and everyone moves on.
Thankfully, Viggo Mortensen and Mahershala Ali are skilled and charming enough to overcome the movie's pandering and blasé look at 1960s racism. If they didn't share such entertaining chemistry, "Green Book" would be an absolute disaster.
Mortensen is Frank Vallelonga, whose "Tony Lip" nickname was given to him as a child due to this direct quote: "I talk people inta doin' stuff they don't wanna." Tony's way with words did get him a lovely wife, Delores (Linda Cardellini), two sons and a gig as a bouncer at the Copacabana.
Farrelly and the screenwriters Brian Hayes Currie and Nick Vallelonga (the actual son of Tony Lip) do a great job in setting up Tony's shaky moral code.
He's good enough to not take any shady, illegal work from Brooklyn's Italian mobsters, but he's racist enough to throw away two glasses just because a few black guys drank from them.
This setup allows for a perfect amount of tension when Tony meets Don Shirley (Ali), a pianist who needs a driver/bodyguard for his upcoming tour of the deep south. Don lives in a lavish penthouse above Carnegie Hall and he can clearly run intellectual circles around Tony.
However, Tony's straight forwardness seems to charm Don and this unlikely pairing hits the road for two months straight.
Once they are in the car, Tony won't shut up, Don digs the quiet, and thus, their relationship seems doomed. But over time, these two guys start to realize that they have more in common with their opposite races than their own. For example, Don has never heard a Little Richard song and this blows Tony's mind while Don helps Tony with his unbelievably bad diction.
So far, so good, right? After about 45 minutes, "Green Book" gets iffy. The pandering ramps up and everyone should be able to tell where this movie is going. There's no need for a spoiler alert to say that both Tony and Don overcome their preconceived notions and biases to "save" each other. The problem is that the movie treats these like shocking revelations when they can be telegraphed from miles away.
It seems like "Green Book" wanted to show a highly offensive time period while not being offensive, which effectively neutered the message.
If it only explored the friendship between two very different men, it works. But when horrible examples of Jim Crow laws occur, Tony and Don simply put on a frowny face and then move on to the next episodic instance of racism.
Then to fully insult your intelligence, it tries to make it all better in the last 15 minutes.
Mortensen and Ali are so committed to their roles that it's almost impossible for "Green Book" to be a poor movie, but this is nothing more than a puff piece disguised as a serious movie.