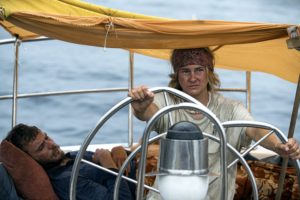 By Chic DiCiccio
Between his last film, "Everest," and his latest, "Adrift," director Baltasar Kormakur must want human beings to stay indoors. Of course, it's not exactly a news flash that climbing the tallest mountain on Earth or sailing from Tahiti to California are dangerous activities. The latter of those two is the focus of "Adrift" and it's a bit of a mixed bag.
"Adrift" takes place in 1983 and is based on the true story of Tami Oldham (Shailene Woodley) and Richard Sharp (Sam Claflin). The recently engaged couple are asked by friends to sail their luxury sailboat from Tahiti to San Diego and they find themselves at the mercy of Category 4 Hurricane Raymond. The movie moves along two timelines and one is much, much better than the other.
The first scene is particularly disturbing and shows just how alone Tami is after she wakes up to a partially flooded and trashed sailboat. After seeing Richard clinging to the boat's dinghy in the distance, she makes some boat repairs in an effort to save him. From there, their goal is to somehow navigate an estimated 1,500 miles to the closest land mass of Hawaii.
We then jump back and forth in time as Tami thinks back to how she met Richard. These sections of the movie relieve the tension, but it's all fairly cheesy. It's a necessary piece of storytelling, but Woodley and Clafin have little chemistry and the cornball dialogue does them no favors.  Eventually, the two timelines in Aaron and Jordan Kandell's screenplay meet and it culminates with the hurricane. If a movie could achieve an R-rating for 10 minutes just based on stress, "Adrift" could do it for this completely terrifying sequence. It's clearly loaded with CGI, but it's not obvious as the scene occurs at night. The sound of the waves crashing on a boat that sounds like it could snap in half any second is the stuff of nightmares.
Woodley really is a great young actress, but she handles the torturous moments in "Adrift" much better than the whirlwind romance section. She looks and sounds tough enough to fight against certain death, but it's downright awkward watching her hop on Claflin's back for a cutesy piggy back ride. She definitely doesn't seem as interested in the pre-disaster film moments as the post, which may mean Woodley needs to focus on gritty, more challenging roles in the future.
"Adrift" is somewhat of a catch-22. The backstory is needed, and it makes sense for it to cut into the depressing moments that revolve around two people dying slowly at sea.
If the movie was chronological, the final 45 minutes would be unbearably sad. The problem is that the flashback moments just aren't very good.
However, "Adrift" does prove that Shailene Woodley can carry an adult-themed movie on her own. It's only a matter of time before the perfect material comes around that gets the critical and box office success she deserves.