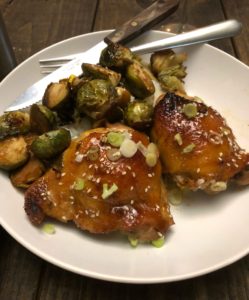 1 cup honey
1/2 cup soy sauce
1/4 cup minced ginger
3 tablespoons minced garlic
1 tablespoon rice vinegar
1 tablespoon sriracha, or to taste
2 pounds bone-in, skin-on chicken thighs
Sliced green onions, toasted sesame seeds, and steamed rice for serving
In a large bowl, whisk together all ingredients except chicken. Add chicken and turn to coat. Marinate in the refrigerator 30 minutes or up to 12 hours. 
Heat oven to 400F. Line a baking sheet with parchment paper. 
Transfer chicken to prepared baking sheet. Pour marinade into a saucepan and bring to a boil, then reduce heat and simmer. Bake chicken until cooked through, about 25 minutes, brushing with marinade halfway through cooking, then again at the end of cooking. Chicken is done when thermometer inserted into the thickest part but not touching the bone reads 180F. 
Sprinkle with onions and sesame seeds and serve with rice.