By Becky Mayad
Shades of blue representing Earth and one of Gershwin's most iconic works are celebrated as the Lone Star Wind Orchestra (LSWO) rings in the new year with "Rhapsodies in Blue" on Sunday, Jan. 29 at 3 p.m. at the Eisemann Center, located at 2351 Performance Dr. in Richardson.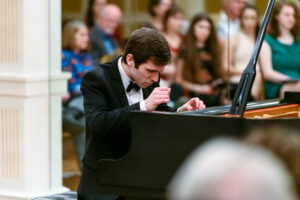 Under the direction of LSWO Music Director Eugene Migliaro Corporon, the three-part concert will feature a new multimedia experience of Julie Giroux's Symphony No. 6 "The Blue Marble," George Gershwin's "Rhapsody in Blue" featuring North Texas native and internationally renowned pianist Aaron Kurz, plus a performance of American composer Frank Ticheli's work, "Blue Shades." 
"As we start the new year, we hope this highly stimulating show is a treat for the eyes and ears," said Corporon. "Our 'Rhapsodies in Blue' concert merges the past and present — from an Earth-inspired new work, to a beloved century-old composition and an American orchestral classic. Through these works and continued outreach, our hope is that the Lone Star Wind Orchestra inspires change through music, and we look forward to impacting the next generation of musicians."
Nearly 100 years after Gershwin composed "Rhapsody in Blue" in 1924, the LSWO and Dallas' own lauded pianist Aaron Kurz will perform the classic masterpiece. Known for his charismatic and moving performances, Kurz, who graduated in 2013 from Greenhill School in Addison, has captivated audiences around the world, from Carnegie Hall in New York to the Palace of Peace and Harmony in Nur-Sultan, Kazakhstan. 
Already cementing itself as a groundbreaking composition, Giroux's Symphony No. 6 "The Blue Marble" is a brand new and innovative work, which will be performed alongside awe-inspiring video and pictorials of Earth taken by Apollo 17 in 1972. 
General admission tickets to "Rhapsodies in Blue" are $22 for adults and $12 for seniors/students. Loge box seating is also available for $42 per ticket. To purchase, call 972-744-4650 or go to eisemanncenter.com.