From Dallas ISD Staff Reports
Last month, more than 160 Dallas ISD middle school choir students competed at the Region 20 UIL Middle School All Region Choir contest, with 70 students earning a spot in one of the choirs! This honor reflects the high quality educational experiences taking place daily in the middle school visual and performing arts classrooms in Dallas ISD.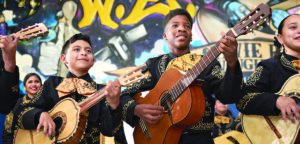 The district's Visual & Performing Arts Department offers a set of courses at the middle school level, which delivers dynamic experiences for students interested in the visual and performing arts. These offerings include visual art, choir, modern band, traditional band, orchestra, mariachi, dance and theater.
"Our department offers students access to multiple visual and performing arts disciplines which provide skills that will serve them in high school and beyond," said Dr. Matthew Edwards, director of choral, elementary and general music at Dallas ISD's Visual & Performing Arts Department.
Students participating in Dallas ISD's arts programs not only have the opportunity to develop these skills in the classroom, but also to showcase them in a wide array of regional and state competitions. These include UIL contests, the Region 20 All-Region Band, Choir, Orchestra and Jazz Band, as well as the Dallas ISD Dance Festival. "Thanks to our community partnerships with entities such as the Dallas Black Dance Theater, the Dallas Museum of Art, the Women's Chorus of Dallas and the AT&T Performing Arts Center, our students enjoy unique opportunities to experience the arts at the highest levels of quality and engagement," added Dr. Edwards.
Dallas ISD is committed to offering students access to fine arts classes that will help them socially, emotionally, artistically and academically through each stage of their public school journey and beyond.